Product name :AccuPower DNA Sequencing Kit 0.5 ml tubes
Catalog Number :K-1010
Quantity :25 reactions
Price :203 Eur
Pay now with :
Supplier :Bioneer
AccuPower® DNA Sequencing Kit is a premix-type product, which contains all reagents for DNA sequencing lyophilized in one tube so the DNA sequence can be analyzed rapidly and accurately. Because sequencing reaction is run at high temperatures during thermal cycling, alkaline denaturation of double-stranded DNA is not necessary and problems from the template DNA secondary structure and high GC content can be minimized. The product also contains 7-deaza dGTP, minimizing band compression. The best sequencing results can be obtained since band intensity background is minimized by using sequencing grade Top™ DNA polymerase, of which 5'->3' exonuclease activity is deactivated by cloning DNA polymerase gene of Thermus thermophilus into E.coli and manipulating the gene.
Sensitivity & reproducibility
All components necessary for a successful reaction have been dispensed in single-reaction portions for convenience, and the patented AccuPower® technology provides unrivaled reagent stability and result reproducibility.
All components are premixed and lyophilized in each G/A/T/C tube
G mix : ddGTPs/dNTPs
A mix : ddATPs/dNTPs
T mix : ddTTPs/dNTPs
C mix : ddCTPs/dNTPs
Each mix contains buffer and Top™ DNA polymerase.

* A specific dye which doesn't affect the sequencing reaction is included to enable checking of the mixing process and monitoring the loss of reaction solution.

* Reducing repetitive and tedious pipetting and mixing minimizes experimental errors.
Storage : Store at -20°C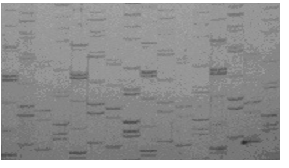 Fig. 1. The sequence analysis of plasmid DNA

DNA sequence analysis of purified plasmid DNA 1 μg of the purified sample was sequenced using AccuPower® DNA Sequencing Kit(K-1010) and stained by Silverstar® Staining Kit (K-1050)
References1. Template DNA & primer
| | |
| --- | --- |
| PCR product(200 bp) | 100~300 ng |
| Primer(17-24mer) | 20~30 pmoles |
| Plasmid DNA(3,000 bp) | 1~2 μg |
| Primer(17-24mer) | 20~30 pmoles |
References2. Primer Sequences

M13/pUC(-47) Forward Primer 24mer


5'-d(CGCCAGGGTTTTCCCAGTCACGAC)-3'


M13/pUC(-48) Reverse Primer 24mer


5'-d(AGCGGATAACAATTTCACAGGA)-3'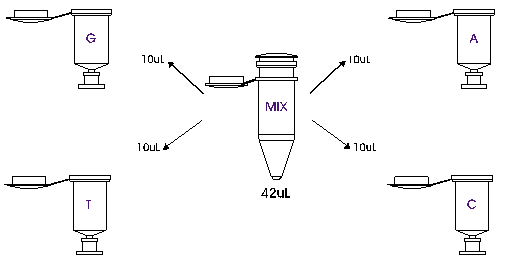 [Related Products]AccuPower DNA Sequencing Kit 0.5 ml tubes
Filter:
(Type enter to validate)
| Cat_Number | Product name | Supplier | Quantity | Price | Tech | More |
| --- | --- | --- | --- | --- | --- | --- |
| K-1010 | AccuPower DNA Sequencing Kit 0.5 ml tubes | Bioneer | 25 reactions | 203€ | | Pub |
| K-1010-1 | AccuPower DNA Sequencing Kit 0.2 ml thin wall 8 strip tubes | Bioneer | 24 reactions | 203€ | | Pub |
| K-1020-1 | TopTM DNA Sequencing Kit Solution Type 0.2 ml thin wall 8 strip tubes | Bioneer | 500 reactions | 1074€ | | Pub |
| K-1020 | TopTM DNA Sequencing Kit Solution Type 0.2 ml thin wall 8 strip tubes | Bioneer | 100 reactions | 307€ | | Pub |
| K-2013 | AccuPower PCR PreMix 0.2 ml thin wall 8 strip tubes with attached cap 96 tubes | Bioneer | 50 ul | 150€ | | Pub |
| K-2017 | AccuPower PCR PreMix 0.2 ml thin wall 8 strip tubes with attached cap 480 tubes | Bioneer | 50 ul | 498€ | | Pub |
| K-2042 | AccuPower RT PreMix 0.5 ml thin wall tubes with attached cap 100 tubes | Bioneer | 50 ul | 259€ | | Pub |
| K-2043 | AccuPower RT PreMix 0.2 ml thin wall 8 strip tubes with attached cap 96 tubes | Bioneer | 50 ul | 721€ | | Pub |
| K-2043-B | AccuPower RT PreMix 0.2 ml thin wall 8 strip tubes with attached cap 480 tubes | Bioneer | 50 ul | 1340€ | | Pub |
| K-2112 | AccuPower Multiplex PCR PreMix NEW 0.2 ml thin wall 8 strip tubes with attached cap 96 tubes | Bioneer | 50 ul | 456€ | | Pub |
| K-2114 | AccuPower Multiplex PCR PreMix NEW 0.2 ml thin wall 8 strip tubes with attached cap 480 tubes | Bioneer | 50 ul | 913€ | | Pub |
| K-5052 | AccuPower HotStart PCR PreMix 0.2 ml thin wall 8 strip tubes with attached cap 96 tubes | Bioneer | 50 ul | 215€ | | Pub |
| K-5053 | AccuPower HotStart PCR PreMix 0.5 ml thin wall tubes with attached cap 100 tubes | Bioneer | 50 ul | 214€ | | Pub |
| K-5057 | AccuPower HotStart PCR PreMix 0.2 ml thin wall 8 strip tubes with attached cap 480 tubes | Bioneer | 50 ul | 741€ | | Pub |
| 3765.X | 2.0 ml MCT Tube 500 tubes pk 10 pks case | Biotix | | 144€ | | Pub |
| 4445.X | 1.6 ml MCT Tube 1.6ml MCT SC GRAD NAT | Biotix | 500 tubes/pk 10 pks/case | 185€ | | Pub |
| AKHB48 | Human Apo B 48 ELISA KIT 2.5 160 ng ml | Shibayagi | 96 wells/kit - 50µl/well | 729.75€ | | Pub |
| BB50-DX-CE | Bullet Blender 50-DX homogenizer, CE certified, for up to 8 samples in 50 mL tubes, with air cooling and noise insulation. | Next Advence | | 3831€ | | Pub |
| BB50AU-CE | Homogenizer for 8 samples in 50mL tubes. Large enclosure to help reduce noise and active cooling to maintain 4C interior temperature. Includes starter kit of beads, scoops and tubes. Upgraded elect | Next Advence | | 4985€ | | Pub |
| BIO-37042 | DNA kits, Column-free Isolation: SureClean | Bioline | 1 x 5ml | 62€ | | Pub |
| D-1030-1 | AccuLadder 100 bp DNA Size Marker 100 2,000 bp | Bioneer | 315 ul x 2 tubes (54 ng/ul) | 227€ | | Pub |
| D-1040-1 | AccuLadder 1 kb DNA Size Marker 500 10,200 bp | Bioneer | 500 ul x 2 tubes (65 ng/ul) | 262€ | | Pub |
| H1212-35A | Rotisserie for 12 of 300 x 35 mm diameter bottles, 24 of 150 x 35 mm diameter bottles or 24 of 50 ml tubes horizonal. Fits H5000 only | Labnet International Inc. | | 343€ | | Pub |
| K-2012 | AccuPower PCR PreMix 0.2 ml thin wall 8 strip tubes with attached cap 96 tubes | Bioneer | 20 ul | 76€ | | Pub |
| K-2012-1 | AccuPower PCR PreMix (with UDG) NEW 0.2 ml thin wall 8 strip tubes with attached cap 96 tubes | Bioneer | 20 ul | 176€ | | Pub |
| K-2016 | AccuPower PCR PreMix 0.2 ml thin wall 8 strip tubes with attached cap 480 tubes | Bioneer | 20 ul | 300€ | | Pub |
| K-2016-1 | AccuPower PCR PreMix (with UDG) NEW 0.2 ml thin wall 8 strip tubes with attached cap 480 tubes | Bioneer | 20 ul | 488€ | | Pub |
| K-2111 | AccuPower Multiplex PCR PreMix NEW 0.2 ml thin wall 8 strip tubes with attached cap 96 tubes | Bioneer | 20 ul | 114€ | | Pub |
| K-2113 | AccuPower Multiplex PCR PreMix NEW 0.2 ml thin wall 8 strip tubes with attached cap 480 tubes | Bioneer | 20 ul | 228€ | | Pub |
| K-2611 | AccuPower PyroHotStart Taq PCR PreMix NEW 0.2 ml thin-wall 8-strip tubes with attached cap 96 tubes | Bioneer | 20 ul | 174€ | | Pub |
| K-5050 | AccuPower HotStart PCR PreMix 0.2 ml thin wall 8 strip tubes with attached cap 96 tubes | Bioneer | 20 ul | 90€ | | Pub |
| K-5050-1 | AccuPower HotStart PCR PreMix (with UDG) NEW 0.2 ml thin wall 8 strip tubes with attached cap 96 tubes | Bioneer | 20 ul | 144€ | | Pub |
| K-5051 | AccuPower HotStart PCR PreMix 0.2 ml thin wall 8 strip tubes with attached cap 480 tubes | Bioneer | 20 ul | 370€ | | Pub |
| K-5051-1 | AccuPower HotStart PCR PreMix (with UDG) NEW 0.2 ml thin wall 8 strip tubes with attached cap 480 tubes | Bioneer | 20 ul | 481€ | | Pub |
| K-6251 | AccuPower GreenStar qPCR Master Mix NEW 2.5 ml 100 reactions | Bioneer | 50 ul | 200€ | | Pub |
| K-6252 | AccuPower GreenStar qPCR Master Mix NEW 5.0 ml 200 reactions | Bioneer | 50 ul | 323€ | | Pub |
| K280-50 | Mitochondrial DNA Isolation Kit50 assays | Biovision | 50 assays | 390.285€ | | Pub |
| K403-50 | ApoBrdU IHC DNA Fragmentation Assay Kit50 assays | Biovision | 50 assays | 579€ | | Pub |
| PP-207L | Plant DNA Preparation Kit, L pack | Jena Bioscience | 500preparations | 226€ | | Pub |
| PPO-200 | ProPrep™ Omni 200 High-Throughput BAC & Plasmid DNA Isolation Kits | Biotech support group | Up to 200 ml cultures | 460€ | | Pub |
| RK-040-02 | Luteinizing Hormone Releasing Hormone (LH RH)(Human, Rat, Mouse, Porcine) Iodine 125 labeled RIA Kit 1.5uCi | Phoenix Peptide | 125 RIA tubes | 750€ | | Pub |
| SL100489-CaS | Transfection Reagents and Kits, GenJet™ DNA In Vitro Tranfection Reagent for Ca Ski was pre optimized for most efficiently transfecting Ca Ski cells. | Signagen | 1 ml | 231.368€ | | Pub |
| A00091 | CD10, CALLA (Neutral Endopeptidase); Clone 56C6 | Scy tek | 6 ml Ready-to-use | 279€ | | Pub |
| A00091.0025 | CD10, CALLA (Neutral Endopeptidase); Clone 56C6 | Scy tek | 25 ml Ready-to-use | 784€ | | Pub |
| A20091 | CD10, CALLA (Neutral Endopeptidase); Clone 56C6 | Scy tek | 2 ml Ready-to-use | 165€ | | Pub |
| BAH67-0050 | Protease, DNASE free heat shock BSA powder, 50gm | Equitech | | 232€ | | Pub |
| BAH67-0500 | Protease, DNASE free heat shock BSA powder, 500gm | Equitech | | 440€ | | Pub |
| 02001-500 | AccuRuller 100bp DNA Ladders 50μg 500μl (>150 loadings) | Maestro | | 115.6€ | | Pub |
| 02002-500 | AccuRuller 100bp Plus DNA Ladders 50μg 500μl (>150 loadings) | Maestro | | 115.6€ | | Pub |
| 02003-500 | AccuRuller 1Kb DNA Ladders 50μg 500μl (>150 loadings) | Maestro | | 115.6€ | | Pub |
| 0801017 | CELLKINES Natural Human Interleukin 2 (IL 2) TCGF, 500 BRMP Units ml, 50ml | Zeptometrix | 1 | 0€ | | Pub |
| 11004 | ReadiUse™ hydrogen peroxide solution *50 mM calibrated and stabilized solution* | AAT Bioquest | 5x10 mL | 124€ | | Pub |
| 1929-25 | MLS-573151 | Biovision | 25 mg | 416€ | | Pub |
| 1929-25 | MLS-573151; Appearance Yellow solid | Biovision | 25 mg | 437.535€ | | Pub |
| 1929-5 | MLS-573151 | Biovision | 5 mg | 143€ | | Pub |
| 1929-5 | MLS-573151; Appearance Yellow solid | Biovision | 5 mg | 145.53€ | | Pub |
| 21-113W | Screw Cap Tubes & O-Ring Caps Tubes 2.0ml Vials, Sterile White Caps | Genesee | 500 Vials/Unit | 119€ | | Pub |
| 21-223 | 5ml Test Tubes, 12x75mm | Genesee | | 129€ | | Pub |
| 21-395 | Screw Cap Tubes & O-Ring Caps Tubes 50ml Transport Tubes Polypropylene, Sterile | Genesee | 20 Bags of 25 Tubes/Unit | 190€ | | Pub |
| 228-10330-2 | Recombinant E. coli HSP70 DnaK Proteins | Ray Biotech | 50 | 205€ | | Pub |
| 228-10331-2 | Recombinant E. coli HSP70 DnaK ATPase BD Proteins | Ray Biotech | 50 | 205€ | | Pub |
| 228-10332-2 | Recombinant Human HSP70 DnaK Proteins | Ray Biotech | 50 | 205€ | | Pub |
| 228-10337-1 | Recombinant Human DNase Proteins | Ray Biotech | 500IU | 147€ | | Pub |
| 232961 | Tubes 30 ml PPCO AOR without screw cap | Herolab | 10 | 104.412€ | | Pub |
| 252700 | Tubes 16 ml PC RB FL | Herolab | 10 | 90€ | | Pub |
| 3102.X | Cryo tubes & Vials 2.0 ml Cryovial with Locking Base | Biotix | 100 per bag, 10 bags per case | 393€ | | Pub |
| 3103.X | Cryo tubes & Vials 3.0 ml Cryovial with Locking Base | Biotix | 100 per bag, 10 bags per case | 398€ | | Pub |
| 3104.X | Cryo tubes & Vials 4.0 ml Cryovial with Locking Base | Biotix | 100 per bag, 10 bags per case | 452€ | | Pub |
| 33-212X | Tube Storage Boxes with Lids Storage Box, Telescope Lid Holds (50) 1.5 2.0ml Tubes | Genesee | 1 Box/Unit x20 | 201€ | | Pub |
| 3423.X | 0.2 ml PCR Tube Flat cap, 1000 tubes pack 10 packs case | Biotix | | 333€ | | Pub |
| 3425.X | 0.2 ml PCR Tube Dome cap 10 bags of 100 tubes pack 10 packs per case | Biotix | | 333€ | | Pub |
| 3426.12.X | 0.2 ml Strip tubes & caps 80 strips pk 10 pks cs | Biotix | | 769€ | | Pub |
| 3426.8.X | 0.2 ml Strip tubes & caps 125 strips pack 10 pks case | Biotix | | 505€ | | Pub |
| 3428.8.X | 0.2 ml Strip tubes & caps 8 ,120 strips pk 10 pks cs | Biotix | | 895€ | | Pub |
| 3737.X | 0.6 ml PCR tubes 1000 per bag, 10 bags per case | Biotix | | 291€ | | Pub |
| A-2060-A1 | AccuPower Calibration Kit for ExicyclerTM 96 | Bioneer | 1 | 1696€ | | Pub |
| A07840 | Acetyl chloride 98% | pfalslandbauer | 5000 ML | 592€ | | Pub |
| BAH67-0050 | Protease, DNASE free heat shock BSA powder, 50gm | Equitech | 50gm | 310.8€ | | Pub |
| BAH67-0500 | Protease, DNASE free heat shock BSA powder, 500gm | Equitech | 500gm | 557.55€ | | Pub |
| BB24-AU-CE | Homogenizer for 24 samples in microcentrifuge tubes. Large enclosure to help reduce noise and active cooling to maintain 4C interior temperature. Includes starter kit of beads, scoops and tubes. Up | Next Advence | | 4850€ | | Pub |
| BBX24-CE | Homogenizer for 24 samples in microcentrifuge tubes. Includes starter kit of beads, scoops and tubes. Upgraded electronics and CE certification. | Next Advence | | 2684€ | | Pub |
| BBY24M-CE | Homogenizer for 24 samples in microcentrifuge tubes. More powerful motor for tough samples. Includes starter kit of beads, scoops and tubes. Air Cooling to prevent heat loading during homogenizatio | Next Advence | | 3594€ | | Pub |
| BCSU-0500 | Non sterile calf serum, 500ml | Equitech | 500 ml | 129.328€ | | Pub |
| BIO-21048 | IMMOLASE DNA Polymerase | Bioline | 5000 Units | 1512€ | | Pub |
| BIO-21078 | MangoTaq DNA Polymerase | Bioline | 5000 Units | 693.63€ | | Pub |
| BIO-21107 | MyTaq DNA Polymerase | Bioline | 5000 Units | 720.09€ | | Pub |
| BIO-21110 | MyTaq Red DNA Polymerase | Bioline | 5000 Units | 720.09€ | | Pub |
| BIO-35026 | Rat Genomic DNA | Bioline | 500µl @ 200ng/µl | 101.446€ | | Pub |
| BPUC-0500 | Non sterile bovine plasma with sodium citrate, 500ml | Equitech | 500 ml | 132.888€ | | Pub |
| BQ062A-EACL | ENZYMATIC ASSAY KITS (CHEMISTRY AUTOANALYZER), KIDNEY AND PANCREATIC DISEASES: NAG Calibrator (2 mL vial) | Bioquant | | 148€ | | Pub |
| BQ062A-EACN | ENZYMATIC ASSAY KITS (CHEMISTRY AUTOANALYZER), KIDNEY AND PANCREATIC DISEASES: NAG Control Set (2 x 2 mL vial) | Bioquant | | 180€ | | Pub |
| BQ062A-EAKP | ENZYMATIC ASSAY KITS (CHEMISTRY AUTOANALYZER), KIDNEY AND PANCREATIC DISEASES: N-Acetyl-p-D-Glucosaminidase (NAG) Kit | Bioquant | 540 tests | 448€ | | Pub |
| bs-0836R-A555 | Rabbit Anti-MLH1 hMLH 1 Polyclonal Antibody, Alexa Fluor 555 conjugated,Isotype: IgG | Sepax | 100ug Lyophilized | 323€ | | Pub |
| bs-1276R-A555 | Rabbit Anti-ERdj5 DNAJC10 Polyclonal Antibody, Alexa Fluor 555 conjugated,Isotype: IgG | Sepax | 100ug Lyophilized | 323€ | | Pub |
| bs-2992R-AF350 | Rabbit Anti-MLK3 Polyclonal Antibody, Alexa Fluor 350 Conjugated, 94kDa; Isotype IgG; Reactivity Human , Rat , Mouse; Application Flow-Cyt(1 20-100), IF(1 50-200) | Bioss | 100ug Lyophilized | 502€ | | Pub |
| bs-2992R-AF488 | Rabbit Anti-MLK3 Polyclonal Antibody, Alexa Fluor 488 Conjugated, 94kDa; Isotype IgG; Reactivity Human , Rat , Mouse; Application Flow-Cyt(1 20-100), IF(1 50-200) | Bioss | 100ug Lyophilized | 502€ | | Pub |
| bs-6781R-A555 | Rabbit Anti-MLK2 MAP3K10 Polyclonal Antibody, Alexa Fluor 555 conjugated,Isotype: IgG | Sepax | 100ug Lyophilized | 323€ | | Pub |
| bs-6781R-PE | Rabbit Anti-MLK2 MAP3K10 Polyclonal Antibody, PE Conjugated , 103kDa; Isotype IgG; Reactivity Human , Mouse , Rat , Xenopuslaevis; Application Flow-Cyt(1 20-100), IF(1 50-200) | Bioss | 100ug Lyophilized | 502€ | | Pub |
| bs-6781R-PE-Cy3 | Rabbit Anti-MLK2 MAP3K10 Polyclonal Antibody, PE-Cy3 Conjugated , 103kDa; Isotype IgG; Reactivity Human , Mouse , Rat , Xenopuslaevis; Application Flow-Cyt(1 20-100), IF(1 50-200) | Bioss | 100ug Lyophilized | 530€ | | Pub |
| bs-7653R-A555 | Rabbit Anti-DNase gamma Polyclonal Antibody, Alexa Fluor 555 conjugated,Isotype: IgG | Sepax | 100ug Lyophilized | 323€ | | Pub |
| bs-7653R-HRP | Rabbit Anti-DNase gamma Polyclonal Antibody, HRP Conjugated, 36kDa, Isotype IgG, Application WB(1 100-500), ELISA(1 500-1000) | Bioss | 100ug Lyophilized | 530€ | | Pub |
| bs-7653R-PE | Rabbit Anti-DNase gamma Polyclonal Antibody, PE Conjugated , 36kDa; Isotype IgG; Reactivity Human , Mouse , Rat; Application Flow-Cyt(1 20-100), IF(1 50-200) | Bioss | 100ug Lyophilized | 502€ | | Pub |
| bs-7653R-PE-Cy3 | Rabbit Anti-DNase gamma Polyclonal Antibody, PE-Cy3 Conjugated , 36kDa; Isotype IgG; Reactivity Human , Mouse , Rat; Application Flow-Cyt(1 20-100), IF(1 50-200) | Bioss | 100ug Lyophilized | 530€ | | Pub |
| BSU-0500 | Non sterile bovine serum, 500ml | Equitech | 500 ml | 129.328€ | | Pub |
| CAPC-0500 | Non sterile canine plasma with sodium citrate, 500ml | Equitech | 500 ml | 538.671€ | | Pub |
| CAPE-0500 | Non sterile canine plasma with EDTA, 500ml | Equitech | 500 ml | 538.671€ | | Pub |
| CAPH-0500 | Non sterile canine plasma with heparin, 500ml | Equitech | 500 ml | 538.671€ | | Pub |
| CAS-0500 | Non sterile canine serum, 500ml | Equitech | 500 ml | 488.838€ | | Pub |
| CMPC-0050 | Non sterile Cynomolgus monkey plasma with sodium citrate,50ml | Equitech | 50 ml | 982.422€ | | Pub |
| CMPC-0500 | Non sterile Cynomolgus monkey plasma with sodium citrate, 500ml | Equitech | 500 ml | 6758.3€ | | Pub |
| CMPE-0050 | Non sterile Cynomolgus monkey plasma with EDTA, 50ml | Equitech | 50 ml | 982.422€ | | Pub |
| CMPE-0500 | Non sterile Cynomolgus monkey plasma with EDTA, 500ml | Equitech | 500 ml | 6758.3€ | | Pub |
| CMPH-0050 | Non sterile Cynomolgus monkey plasma with heparin, 50ml | Equitech | 50 ml | 982.422€ | | Pub |
| CMPH-0500 | Non sterile Cynomolgus monkey plasma with heparin, 500ml | Equitech | 500 ml | 6758.3€ | | Pub |
| CMS-0050 | Non sterile Cynomolgus monkey serum, 50ml | Equitech | 50 ml | 883.943€ | | Pub |
| CMS-0500 | Non sterile Cynomolgus monkey serum, 500ml | Equitech | 500 ml | 6017.93€ | | Pub |
| CQBL-05K | CellQuanti Blue™ Cell Viability Assay Kits | Bioassays | 5000 | 170.887€ | | Pub |
| CQLD-100 | QuantiChrom™ LDH Cytotoxicity Assay Kit, Quantitative determination of cytotoxicity based on cellular lactate dehydrogenase release into cell culture medium by colorimetric (565nm) method. Procedure | Bioassays | 100tests | 113€ | | Pub |
| CQMT-500 | CellQuanti-MTT™ Cell Viability Assay Kits | Bioassays | 500 tests | 133€ | | Pub |
| CQMT-500 | CellQuanti MTT™ Cell Viability Assay Kits | Bioassays | 500 | 174.794€ | | Pub |
| CS-0500 | Non sterile chicken serum, 500ml | Equitech | 500 ml | 155.432€ | | Pub |
| D2NO-100 | QuantiChrom™ Nitric Oxide Assay Kit, Quantitative determination of nitric oxide by colorimetric (540nm) method | Bioassays | 100Tests | 265€ | | Pub |
| DAMY-100 | QuantiChrom™ α-Amylase Assay Kit, Quantitative determination of α-amylase activity by colorimetric (595nm) method | Bioassays | 100Tests | 405€ | | Pub |
| DICA-500 | QuantiChrom™ Calcium Assay Kit, Quantitative determination of calcium ion Ca2+ by colorimetric (612nm) method | Bioassays | 500Tests | 320€ | | Pub |
| DIUR-500 | QuantiChrom™ Urea Assay Kit, Quantitative determination of urea by chemical colorimetric (520nm) method | Bioassays | 500Tests | 300€ | | Pub |
| DS-0500 | Non sterile donkey serum, 500ml | Equitech | 500 ml | 148.312€ | | Pub |
| DS-PB-00617 | Rabbit Anti-Bovine DNAse 1 Antibodies | Ray Biotech | 1 ml | 485€ | | Pub |
| DS-PB-01349 | Rabbit Anti-Human mlH1 Antibodies | Ray Biotech | 50 | 411€ | | Pub |
| E-1792 | Mlu I | Bioneer | 5000 unit | 390€ | | Pub |
| E-3061 | Includes 10 X reaction buffer, 100mM MgCl2, 50mM DTT, 10mM ATP, 25 ug mL BSA | Bioneer | 20000 Units | 90€ | | Pub |
| E-3062 | Includes 10 X reaction buffer, 100mM MgCl2, 50mM DTT, 10mM ATP, 25 ug mL BSA | Bioneer | 100000 Units | 210€ | | Pub |
| E-3122 | 5 tubes of 10,000 Units Includes 5 X reaction buffer, 100 mM DTT | Bioneer | 50000 Units | 323€ | | Pub |
| E2HL-100 | EnzyChrom™ AF HDL and LDL VLDL Assay Kit, Quantitative determination of HDL and LDL VLDL cholesterol by colorimetric (570nm) or fluorimetric (530nm 590nm) methods. Procedure 60 min. Kit size 100 tes | Bioassays | 100tests | 393€ | | Pub |
| E2ND-100 | EnzyChrom™ NAD NADH Assay Kit, Sensitive determination of NAD and NADH by colorimetric (565nm) method. Procedure 15 min. Kit size 100 tests. Detection limit 0.05 µM. Shelf life 6 months. Shipping | Bioassays | 100tests | 364€ | | Pub |
| EACL-100 | EnzyChrom™ Acetylcholine Assay Kit, Quantitative determination of acetylcholine by colorimetric (570nm) or fluorimetric (530nm 590nm) methods. Procedure 30 min. Kit size 100 tests. Detection limit | Bioassays | 100tests | 345€ | | Pub |
| EASC-100 | EnzyChrom™ Ascorbic Acid Assay Kit, Quantitative determination of ascorbic acid by colorimetric (570nm) or fluorimetric (530nm 590nm) methods. Procedure 10 min. Kit size 100 tests. Detection limit | Bioassays | 100tests | 335€ | | Pub |
| ECAT-100 | EnzyChrom™ Catalase Assay Kit, Quantitative determination of catalase activity by colorimetric (570nm) or fluorometric (530nm 590nm) methods. Procedure 40 min. Kit size 100 tests. Detection limit 0 | Bioassays | 100tests | 258€ | | Pub |
| EDLC-100 | EnzyChrom™ D-Lactate Assay Kit, Quantitative determination of D-lactic acid by colorimetric (565nm) method | Bioassays | 100Tests | 362€ | | Pub |
| EDLC-100 | EnzyChrom™ D-Lactate Assay Kit, Quantitative determination of D-lactic acid by colorimetric (565nm) method. Procedure 20 min. Kit size 100 tests. Detection limit 0.05 mM. Shelf life 6 months. Ship | Bioassays | 100tests | 345€ | | Pub |
| EFFA-100 | EnzyChrom™ Free Fatty Acid Assay Kit, Quantitative determination of free fatty acid by colorimetric (570nm) or fluorimetric (530 590nm) method. Procedure 30 min. Kit size 100 tests. Detection limit | Bioassays | 100tests | 355€ | | Pub |
| EFRU-100 | EnzyChrom™ Fructose Assay Kit, Quantitative determination of fructose by colorimetric (565nm) method. Procedure 70 min. Kit size 100 tests. Detection limit 12 µM fructose. Shelf life 3 months. Shi | Bioassays | 100tests | 335€ | | Pub |
| EKIN-400 | EnzyChrom™ Kinase Assay Kit, Rapid mix-and-measure procedure for determination of kinase activity and high-throµghput screening for kinase inhibitors by fluorimetric (530nm 590nm) method | Bioassays | 400Tests | 250€ | | Pub |
| ELAC-100 | EnzyChrom™ Lactose Assay Kit, Quantitative determination of lactose by colorimetric (570nm) or fluorimetric (530nm 590nm) methods. Procedure 30 min. Kit size 100 tests. Detection limit 6 µM. Shelf | Bioassays | 100tests | 335€ | | Pub |
| EPPD-100 | EnzyChrom™ Phospholipase D Assay Kit, Quantitative determination of phospholipase D activity by colorimetric (570nm) or fluorimetric (530 590nm) method. Procedure 30 min. Kit size 100 tests. Detecti | Bioassays | 100tests | 287€ | | Pub |
| EPYR-100 | EnzyChrom™ Pyruvate Assay Kit, Quantitative determination of pyruvate by colorimetric (570nm) or fluorimetric (530nm 590nm) methods. Procedure 20 min. Kit size 100 tests. Detection limit fluorimetr | Bioassays | 100tests | 316€ | | Pub |
| ES-0500 | Non sterile equine serum, 500ml | Equitech | 500 ml | 148.312€ | | Pub |
| EXOTC50A-1 | ExoQuick TC 50ml | SBI | 50 ml | 966€ | | Pub |
| FAATR001 | After-Tri RNA Purification Mini Kit (50prep) | Faworgen | 5kits | 400€ | | Pub |
| FPC-0500 | Non sterile feline plasma with sodium citrate, 500ml | Equitech | 500 ml | 982.422€ | | Pub |
| FPE-0500 | Non sterile feline plasma with EDTA, 500ml | Equitech | 500 ml | 982.422€ | | Pub |
| FPH-0500 | Non sterile feline plasma with heparin, 500ml | Equitech | 500 ml | 982.422€ | | Pub |
| FS-0500 | Non sterile feline serum, 500ml | Equitech | 500 ml | 883.943€ | | Pub |
| G008 | Taq DNA Polymerase 5000U | ABM Goods | 5000U; 5U/ul | 183.75€ | | Pub |
| G017 | 500bp DNA Marker | ABM Goods | 100 lanes (6ul/lane) | 77.7€ | | Pub |
| G063 | Blasticidin | ABM Goods | 50mg/ml | 189€ | | Pub |
| G078 | Precision Taq DNA Polymerase | ABM Goods | 500U; 5U/ul | 159.6€ | | Pub |
| G193 | 100bp Plus DNA Ladder | ABM Goods | 500ul | 94.5€ | | Pub |
| G2100 | DNAfectin 2100 (A) | ABM Goods | 1ml; 100-500 transfections | 135€ | | Pub |
| G248 | 1kb Plus DNA Ladder | ABM Goods | 500ul | 94.5€ | | Pub |
| GM345 | 100 1000bp DNA Marker, Ready to Use | BBI Biotech | 13 DNA fragments: 50, 100X2, 150, 200X2 ,250, 300, 400, 500X2, 600, 700, 800, 900 and 1031bp | 84€ | | Pub |
| GPC-0500 | Non sterile goat plasma with sodium citrate, 500ml | Equitech | 500 ml | 156.618€ | | Pub |
| GPE-0500 | Non sterile goat plasma with EDTA, 500ml | Equitech | 500 ml | 156.618€ | | Pub |
| GPH-0500 | Non sterile goat plasma with heparin, 500ml | Equitech | 500 ml | 156.618€ | | Pub |
| GPPE-0050 | Non sterile guinea pig plasma with EDTA, 50ml | Equitech | 50 ml | 218.316€ | | Pub |
| GPPE-0500 | Non sterile guinea pig plasma with EDTA, 500ml | Equitech | 500 ml | 711.9€ | | Pub |
| GPS-0050 | Non sterile guinea pig serum, 50ml | Equitech | 50 ml | 193.2€ | | Pub |
| GPS-0500 | Non sterile guinea pig serum, 500ml | Equitech | 500 ml | 538.65€ | | Pub |
| GS-0500 | Non sterile goat serum, 500ml | Equitech | 500 ml | 148.312€ | | Pub |
| HA241 | Colistin (Polymyxin E) ELISA kit Sensitivity 0.5ppb Sample chicken,liver | Wanger | 1 kit | 569.52€ | | Pub |
| HAPC-0050 | Non sterile hamster plasma with sodium citrate, 50ml | Equitech | 50 ml | 249€ | | Pub |
| HAPE-0050 | Non sterile hamster plasma with EDTA, 50ml | Equitech | 50 ml | 249€ | | Pub |
| HAPH-0050 | Non sterile hamster plasma with heparin, 50ml | Equitech | 50 ml | 249€ | | Pub |
| HAS-0050 | Non sterile hamster serum, 50ml | Equitech | 50 ml | 217.35€ | | Pub |
| HAS-0500 | Non sterile hamster serum, 500ml | Equitech | 500 ml | 588€ | | Pub |
| ICK-N50ml(K2EDTA) | Chicken Plasma 50 ml | Innovative Research INC | 50ml | 282€ | | Pub |
| ICK-N50ml(K3EDTA) | Chicken Plasma 50 ml | Innovative Research INC | 50ml | 282€ | | Pub |
| IQ253 | Mouse AntiMad1L1 Target Antigen Mad1L1 Host Isotype Mouse IgG2b Application IF; IP; | Imunquest | 50ul (2mg/ml) | 427€ | | Pub |
| IQ254 | Mouse AntiCENPE Target Antigen CENPE Host Isotype Mouse IgG1 Application ICC; IF; IP; WB (after antigen concentration); | Imunquest | 50ul (0.45mg/ml) | 427€ | | Pub |
| IQ255 | Mouse (monoclonal) AntiBUB1 Target Antigen BUB1 Host Isotype Mouse IgG1 Application IF; IP; WB; | Imunquest | 50ul (1.1mg/ml) | 427€ | | Pub |
| IQ259 | Mouse AntiSMN (Gemin1) Target Antigen SMN (Gemin1) Host Isotype Mouse IgG1 Application E; IF; IP; WB; | Imunquest | 50ul (1.8mg/ml) | 427€ | | Pub |
| IQ260 | Mouse AntiGemin2 Target Antigen Gemin2 Host Isotype Mouse IgG1 Application E; IF; IP; WB; | Imunquest | 50ul (1mg/ml) | 427€ | | Pub |
| IQ261 | Mouse AntiGemin3 Target Antigen Gemin3 Host Isotype Mouse IgG1 Application E; IF; IP; WB; | Imunquest | 50ul (1mg/ml) | 427€ | | Pub |
| IQ262 | Mouse AntihnRNPA1 Target Antigen hnRNPA1 Host Isotype Mouse IgG2a Application E; IF; IP; WB; | Imunquest | 50ul (1mg/ml) | 427€ | | Pub |
| IQ263 | Mouse AntihnRNPA1 Target Antigen hnRNPA1 Host Isotype Mouse IgG2b Application E; IB; IF; IP; | Imunquest | 50ul (2.5mg/ml) | 427€ | | Pub |
| IQ264 | Mouse AntihnRNPF Target Antigen hnRNPF Host Isotype Mouse IgG1 Application E; WB; | Imunquest | 50ul (1mg/ml) | 427€ | | Pub |
| IQ265 | Mouse AntihnRNPF H Target Antigen hnRNPF H Host Isotype Mouse IgG1 Application E; IF; IP; WB; | Imunquest | 50ul (1mg/ml) | 427€ | | Pub |
| IQ266 | Mouse AntihnRNPU Target Antigen hnRNPU Host Isotype Mouse IgG1 Application E; IF; IP; WB; | Imunquest | 50ul (1mg/ml) | 427€ | | Pub |
| IQ267 | Mouse AntihnRNPQ Target Antigen hnRNPQ Host Isotype Mouse IgG1 Application E; IF; IP; WB; | Imunquest | 50ul (1mg/ml) | 427€ | | Pub |
| IQ268 | Mouse AntihnRNPL Target Antigen hnRNPL Host Isotype Mouse IgG1 Application E; IB; IF; IP; | Imunquest | 50ul (1mg/ml) | 427€ | | Pub |
| IQ269 | Mouse AntihnRNPK J Target Antigen hnRNPK J Host Isotype Mouse IgG2b Application E; IF; IP; WB; | Imunquest | 50ul (1mg/ml) | 427€ | | Pub |
| IQ270 | Mouse AntihnRNPC1 C2 Target Antigen hnRNPC1 C2 Host Isotype Mouse IgG1 Application E; IF; IP; WB; IHC (P) | Imunquest | 50ul (1mg/ml) | 427€ | | Pub |
| IQ271 | Mouse AntihnRNPA2 B1 Target Antigen hnRNPA2 B1 Host Isotype Mouse IgG2a Application E; IF; IHC(P); IP; WB; | Imunquest | 50ul (1mg/ml) | 427€ | | Pub |
| IQ272 | Mouse AntiPABP Target Antigen PABP Host Isotype Mouse IgG2b Application E; IF; IP; WB; | Imunquest | 50ul (1mg/ml) | 427€ | | Pub |
| IQ273 | Mouse AntiFXR2 Target Antigen FXR2 Host Isotype Mouse IgG1 Application E; IF; IP; WB; | Imunquest | 50ul (1mg/ml) | 427€ | | Pub |
| IQ274 | Mouse AntiFMR1 (Drosophila) Target Antigen FMR1 (Drosophila) Host Isotype Mouse IgG1 Application E; IF; IP; WB; | Imunquest | 50ul (1mg/ml) | 492€ | | Pub |
| IQ275 | Mouse AntiY14 Target Antigen Y14 Host Isotype Mouse IgG2b Application E; IF; IP; WB; | Imunquest | 50ul (2.2mg/ml) | 427€ | | Pub |
| IQ276 | Mouse AntiALY Target Antigen ALY Host Isotype Mouse IgG1 Application E; IF; IP; WB;IHC (P) | Imunquest | 50ul (1mg/ml) | 427€ | | Pub |
| IQ278 | Mouse AntiTransportin1 Target Antigen Transportin1 Host Isotype Mouse IgG1 Application E; IF; IP; WB; | Imunquest | 50ul (1mg/ml) | 427€ | | Pub |
| IQ279 | Mouse AntiTAP Target Antigen TAP Host Isotype Mouse IgG1 Application E; IF; IP; WB; | Imunquest | 50ul (1mg/ml) | 427€ | | Pub |
| IQ304 | Rat AntiHIV2 Nef Target Antigen HIV2 Nef Host Isotype Rat IgG1 Application IP; WB; | Imunquest | 50ul (1mg/ml) | 492€ | | Pub |
| IQ305 | Rat AntiKaryopherin alpha2 (KPNA2) Target Antigen Karyopherin alpha2 (KPNA2) Host Isotype Rat IgG2a Application WB; | Imunquest | 50ul (1mg/ml) | 492€ | | Pub |
| IQ306 | Rat AntiORC6 (origin recognition complex 6) Target Antigen ORC6 (origin recognition complex 6) Host Isotype Rat IgG2a Application ChIP; IP; WB; | Imunquest | 50ul (1mg/ml) | 427€ | | Pub |
| IQ307 | Rat AntiORC2 (origin recognition complex 2) Target Antigen ORC2 (origin recognition complex 2) Host Isotype Rat IgG2a Application IP; WB; | Imunquest | 50ul (1mg/ml) | 427€ | | Pub |
| IQ308 | Rat AntiORC3 (origin recognition complex 3) Target Antigen ORC3 (origin recognition complex 3) Host Isotype Rat IgG2b Application IP; WB; | Imunquest | 50ul (1mg/ml) | 427€ | | Pub |
| IQ309 | Rat AntiORC1 (origin recognition complex 1) Target Antigen ORC1 (origin recognition complex 1) Host Isotype Rat IgG1 Application IP; WB; | Imunquest | 50ul (1mg/ml) | 427€ | | Pub |
| IQ311 | Rat AntiNidogen EnactinG2 Domain Target Antigen Nidogen EnactinG2 Domain Host Isotype Rat IgG2b Application E; WB; | Imunquest | 50ul (1mg/ml) | 427€ | | Pub |
| IQ313 | Rat AntiNidogen EnactinG1 Domain Target Antigen Nidogen EnactinG1 Domain Host Isotype Rat IgG2a Application E; WB; | Imunquest | 50ul (1mg/ml) | 427€ | | Pub |
| IQ315 | Rat AntiNidogen EnactinG3 Domain Target Antigen Nidogen EnactinG3 Domain Host Isotype Rat IgG2a Application E; WB; | Imunquest | 50ul (1mg/ml) | 427€ | | Pub |
| IQ317 | Hamster AntiSerine Protease Inhibitor 2A (Spi2A) Target Antigen Serine Protease Inhibitor 2A (Spi2A) Host Isotype Hamster IgG2b Application IB; | Imunquest | 50ul (1mg/ml) | 427€ | | Pub |
| IQ319 | Mouse AntiReceptor Tyrosine Phosphatase Beta (phosphacan) Target Antigen Receptor Tyrosine Phosphatase Beta (phosphacan) Host Isotype Mouse IgM Application ICC; IF; IP; WB; | Imunquest | 50ul (1mg/ml) | 427€ | | Pub |
| IQ321 | Mouse AntiNeurocan Target Antigen Neurocan Host Isotype Mouse IgG Application ICC; IF; WB; | Imunquest | 50ul (1mg/ml) | 427€ | | Pub |
| IQ334 | Mouse AntiKallikrein 2 (Hk2) Target Antigen Kallikrein 2 (Hk2) Host Isotype Mouse IgG1 Application E; ICC; IHC | Imunquest | 50ul (1mg/ml) | 427€ | | Pub |
| IQ336 | Mouse AntiSigma 54 Target Antigen Sigma 54 Host Isotype Mouse IgG1 kappa Application E; WB; | Imunquest | 50ul (1mg/ml) | 427€ | | Pub |
| K-2018 | AccuPower PCR PreMix 1 ml of 2 X Master mix solution | Bioneer | | 158.5€ | | Pub |
| K-2018-1 | AccuPower PCR PreMix 10 ml of 2 X Master mix solution | Bioneer | | 399€ | | Pub |
| K-3032-2 | Kits for 96 well Plate Vacuum Manifold AccuPrep™ Genomic DNA Extraction kit | Bioneer | 96-well plate X 2 | 0€ | | Pub |
| K-6110 | AccuPower DualStar qPCR PreMix Exicycler 8 well strip, 12 strips 96 tests , optical film included | Bioneer | 50 ul | 184€ | | Pub |
| K-6111 | AccuPower DualStar qPCR PreMix ABI 7500 8 well strip, 12 strips 96 tests , optical film included | Bioneer | 50 ul | 205€ | | Pub |
| K-6112 | AccuPower DualStar qPCR PreMix Opticon 8 well strip, 12 strips 96 tests | Bioneer | 50 ul | 201€ | | Pub |
| K-6113 | AccuPower DualStar qPCR PreMix Exicycler 96 well plate, 1 plate 96 tests , optical film included | Bioneer | 50 ul | 184€ | | Pub |
| K-6114 | AccuPower DualStar qPCR PreMix ABI 7500 96 well plate, 1 plate 96 tests , optical film included | Bioneer | 50 ul | 205€ | | Pub |
| K-6200 | AccuPower GreenStar qPCR PreMix Exicycler 8 well strip, 12 strips 96 tests, optical film included | Bioneer | 50 ul | 184€ | | Pub |
| K-6201 | AccuPower GreenStar qPCR PreMix ABI 7500 8 well strip, 12 strips 96 tests , optical film included | Bioneer | 50 ul | 205€ | | Pub |
| K-6202 | AccuPower GreenStar qPCR PreMix Opticon 8 well strip, 12 strips 96 tests | Bioneer | 50 ul | 201€ | | Pub |
| K-6203 | AccuPower GreenStar qPCR PreMix Exicycler 96 well plate, 1 plate 96 tests , optical film included | Bioneer | 50 ul | 184€ | | Pub |
| K-6204 | AccuPower GreenStar qPCR PreMix ABI 7500 96 well plate, 1 plate 96 tests , optical film included | Bioneer | 50 ul | 205€ | | Pub |
| K-7103 | AccuPower® DNA Ligation PreMix | Bioneer | 96 ligations | 424€ | | Pub |
| K003-H5W | Cortisol Enzyme Immunoassay kit 5 Whole plates | Arbor Assays | 5x96 well plate | 806€ | | Pub |
| K006-F5 | Glutathione Fluorescent Detection Kit (5 plate) | Arbor Assays | 5x96 well plate | 795€ | | Pub |
| K014-C5 | Corticosterone Chemiluminescent CLIA kit, 5 plates | Arbor Assays | 5x96 well plate | 1019€ | | Pub |
| K014-H5 | Corticosterone Enzyme Immunoassay kit, 5 plates | Arbor Assays | 5x96 well plate | 830€ | | Pub |
| K017-C5 | Cortisone Chemiluminescent CLIA kit (Five Plate) | Arbor Assays | 5x96 well plate | 1231€ | | Pub |
| K018-C5 | PGE2 Chemiluminescent Immunoassay kit (Five Plate) | Arbor Assays | 5x96 well plate | 1329€ | | Pub |
| K018-H5 | PGE2 Enzyme Immunoassay kit (Five Plate) | Arbor Assays | 5x96 well plate | 1016€ | | Pub |
| K018-HX5 | PGE2 Enzyme Immunoassay High Sensitivity kit (Five Plate) | Arbor Assays | 5x96 well plate | 1016€ | | Pub |
| K019-C5 | Cyclic AMP Direct Chemiluminescent EIA kit (Five Plate) | Arbor Assays | 5x96 well plate | 1192€ | | Pub |
| K019-H5 | Cyclic AMP Direct EIA Kit (Five Plate) | Arbor Assays | 5x96 well plate | 1016€ | | Pub |
| K019-H5 | Cyclic AMP Total EIA Kit (Five Plate) | Arbor Assays | 5x96 well plate | 1186€ | | Pub |
| K020-C5 | Cyclic GMP Direct Chemiluminescent kit (Five Plate) | Arbor Assays | 5x96 well plate | 1329€ | | Pub |
| K020-H5 | Cyclic GMP Direct EIA kit (Five Plate) | Arbor Assays | 5x96 well plate | 1152€ | | Pub |
| K022-H5 | PGFM Enzyme Immunoassay kit (Five Plate) | Arbor Assays | 5x96 well plate | 1007€ | | Pub |
| K025-H5 | Progesterone EIA kit (Five Plates) | Arbor Assays | 5x96 well plate | 830€ | | Pub |
| K026-H5 | Atrial Natriuretic Peptide (ANP) EIA kit (Five Plates) | Arbor Assays | 5x96 well plate | 1152€ | | Pub |
| K030-H5 | Estradiol EIA kit (Five Plates) | Arbor Assays | 5x96 well plate | 801€ | | Pub |
| K031-H5 | Estrone EIA kit (Five Plates) | Arbor Assays | 5x96 well plate | 830€ | | Pub |
| K032-H5 | Testostrone EIA kit (Five Plates) | Arbor Assays | 5x96 well plate | 853€ | | Pub |
| K036-H5 | Estrone-3-Glucuronide (E1G) EIA Kit (Five Plate) | Arbor Assays | 5x96 well plate | 896€ | | Pub |
| K037-H5 | Pregnanediol-3-Glucuronide (PDG) EIA Kit (Five Plate) | Arbor Assays | 5x96 well plate | 896€ | | Pub |
| K038-H5 | Estrone-3-Sulfate (E1G) EIA Kit (Five Plate) | Arbor Assays | 5x96 well plate | 1652€ | | Pub |
| K267-50 | Cytosol Particulate Separation Kit50 assays | Biovision | 50 assays | 276.885€ | | Pub |
| K268-50 | Membrane Protein Extraction Kit50 assays | Biovision | 50 assays | 314.685€ | | Pub |
| K269-500 | Mammalian Cell Extraction Kit500 assays | Biovision | 500 assays | 221.13€ | | Pub |
| K270-50 | FractionPREP Cell Fractionation Kit50 assays | Biovision | 50 assays | 400.68€ | | Pub |
| K410-500 | Phosphate Colorimetric Assay Kit500 assays | Biovision | 500 assays | 0€ | | Pub |
| M1471 | 5 Carboxy X Rhodamine, NHS Ester, This dye is commonly used in dye terminator sequencing methods by attachment to dideoxynucleotide triphosphates (ddNTP's). It can also be used in other DNA or RNA lab | MarkerGene | | 388€ | | Pub |
| MS-0050 | Non sterile mouse serum, 50ml | Equitech | 50 ml | 174.3€ | | Pub |
| MS-0500 | Non sterile mouse serum, 500ml | Equitech | 500 ml | 341.25€ | | Pub |
| NBSU-0500 | Non sterile newborn calf serum, 500ml | Equitech | 500 ml | 133.35€ | | Pub |
| OS-0500 | Non sterile sheep serum, 500ml | Equitech | 500 ml | 192.15€ | | Pub |
| PBKXL-10 | ProPrep™ Genomic XL-10 High-Throughput Genomic DNA Isolation Kits | Biotech support group | 10, 10ml whole blood | 655€ | | Pub |
| PLF-960 | ProPrep™ BAC 960 High-Throughput BAC & Plasmid DNA Isolation Kits | Biotech support group | 10x96, 2.0ml cultures | 1501€ | | Pub |
| PS-0500 | Non sterile porcine serum, 500ml | Equitech | 500 ml | 158.55€ | | Pub |
| RMS-0050 | Non sterile Rhesus monkey serum, 50ml | Equitech | 50 ml | 884.1€ | | Pub |
| RMS-0500 | Non sterile Rhesus monkey serum, 500ml | Equitech | 500 ml | 6017.55€ | | Pub |
| RTS-0050 | Non sterile rat serum, 50ml | Equitech | 50 ml | 193.2€ | | Pub |
| RTS-0500 | Non sterile rat serum, 500ml | Equitech | 500 ml | 439.95€ | | Pub |
| S0200-25 | Optional head attachment for 12 x 1.5 2.0 ml tubes, held horizontally | Labnet International Inc. | 1 | 95.55€ | | Pub |
| SBCU-0500 | Sterile filtered calf serum, 500ml | Equitech | 500 ml | 137.55€ | | Pub |
| SBSU-0500 | Sterile filtered bovine serum, 500ml | Equitech | 500 ml | 137.55€ | | Pub |
| SC-0500 | Sterile filtered chicken serum, 500ml | Equitech | 500 ml | 162.75€ | | Pub |
| SCA-0500 | Sterile filtered canine serum, 500ml | Equitech | 500 ml | 588€ | | Pub |
| SCM-0050 | Sterile filtered Cynomolgus monkey serum, 50ml | Equitech | 50 ml | 1081.5€ | | Pub |
| SCM-0500 | Sterile filtered Cynomolgus monkey serum, 500ml | Equitech | 500 ml | 7498.05€ | | Pub |
| SD-0500 | Sterile filtered donkey serum, 500ml | Equitech | 500 ml | 162.75€ | | Pub |
| SE-0500 | Sterile filtered equine serum, 500ml | Equitech | 500 ml | 162.75€ | | Pub |
| SF-0500 | Sterile filtered feline serum, 500ml | Equitech | 500 ml | 1081.5€ | | Pub |
| SFBA-0050 | Sterile filtered fetal bovine serum, 50ml | Equitech | 50 ml | 121.8€ | | Pub |
| SFBA-0500 | Sterile filtered fetal bovine seru, 500ml | Equitech | 500 ml | 322.35€ | | Pub |
| SFBIU-0050 | Sterile filtered fetal bovine serum, low IgG,50ml | Equitech | 50 ml | 142.8€ | | Pub |
| SFBIU-0050HI | Sterile filtered fetal bovine serum, low IgG, 50ml, heat inactivated | Equitech | 50 ml | 145.95€ | | Pub |
| SFBIU-0500 | Sterile filtered fetal bovine serum, low IgG, 500ml | Equitech | 500 ml | 469.35€ | | Pub |
| SFBIU-0500HI | Sterile filtered fetal bovine serum, low IgG, 500ml, heat inactivated | Equitech | 500 ml | 472.5€ | | Pub |
| SFBM-0050 | Sterile filtered fetal bovine serum, 50ml | Equitech | 50 ml | 120.75€ | | Pub |
| SFBM-0050HI | Sterile filtered fetal bovine serum, 50ml, heat inactivated | Equitech | 50 ml | 123.9€ | | Pub |
| SFBM-0500 | Sterile filtered fetal bovine serum, 500ml | Equitech | 500 ml | 298.2€ | | Pub |
| SFBM-0500HI | Sterile filtered fetal bovine serum, 500ml, heat inactivated | Equitech | 500 ml | 301.35€ | | Pub |
| SFBMC-0500 | Sterile filtered fetal bovine serum, charcoal stripped, 500ml | Equitech | 500 ml | 427.35€ | | Pub |
| SFBMC-0500HI | Sterile filtered fetal bovine serum, charcoal stripped, 500ml, heat inactivated | Equitech | 500 ml | 430.5€ | | Pub |
| SFBMDY-0500 | Sterile filtered fetal bovine serum, dialyzed, 500ml | Equitech | 500 ml | 427.35€ | | Pub |
| SFBMDY-0500HI | Sterile filtered fetal bovine serum, dialyzed, 500ml, heat inactivated | Equitech | 500 ml | 430.5€ | | Pub |
| SFBU-0050 | Sterile filtered fetal bovine serum, 50ml | Equitech | 50 ml | 121.8€ | | Pub |
| SFBU-0050HI | Sterile filtered fetal bovine serum, 50ml, heat inactivated | Equitech | 50 ml | 124.95€ | | Pub |
| SFBU-0500 | Sterile filtered fetal bovine serum, 500ml | Equitech | 500 ml | 322.35€ | | Pub |
| SFBU-0500GI | Sterile filtered fetal bovine serum, 500ml gamma irradiated | Equitech | 500 ml | 340.2€ | | Pub |
| SFBU-0500HI | Sterile filtered fetal bovine serum, 500ml, heat inactivated | Equitech | 500 ml | 325.5€ | | Pub |
| SFBUC-0500 | Sterile filtered fetal bovine serum, charcoal stripped, 500ml | Equitech | 500 ml | 467.25€ | | Pub |
| SFBUC-0500HI | Sterile filtered fetal bovine serum, charcoal stripped,500ml, heat inactivated | Equitech | 500 ml | 470.4€ | | Pub |
| SFBUDY-0500 | Sterile filtered fetal bovine serum, dialyzed, 500ml | Equitech | 500 ml | 467.25€ | | Pub |
| SG-0500 | Sterile filtered goat serum, 500ml | Equitech | 500 ml | 162.75€ | | Pub |
| SGP-0050 | Sterile filtered guinea pig serum, 50ml | Equitech | 50 ml | 217.35€ | | Pub |
| SGP-0500 | Sterile filtered guinea pig serum, 500ml | Equitech | 500 ml | 649.95€ | | Pub |
| SHA-0050 | Sterile filtered hamster serum, 50ml | Equitech | 50 ml | 248.85€ | | Pub |
| SHA-0500 | Sterile filtered hamster serum, 500ml | Equitech | 500 ml | 711.9€ | | Pub |
| SHAPC-0050 | Sterile filtered hamster plasma with sodium citrate, 50ml | Equitech | 50 ml | 249€ | | Pub |
| SHAPE-0050 | Sterile filtered hamster plasma with EDTA, 50ml | Equitech | 50 ml | 249€ | | Pub |
| SHAPH-0050 | Sterile filtered hamster plasma with heparin, 50ml | Equitech | 50 ml | 249€ | | Pub |
| SM-0050 | Sterile filtered mouse serum, 50ml | Equitech | 50 ml | 186.9€ | | Pub |
| SM-0500 | Sterile filtered mouse serum, 500ml | Equitech | 500 ml | 414.75€ | | Pub |
| SNBU-0500 | Sterile filtered newborn calf serum, 500ml | Equitech | 500 ml | 142.8€ | | Pub |
| SRM-0050 | Sterile filtered Rhesus monkey serum, 50ml | Equitech | 50 ml | 884.1€ | | Pub |
| SRM-0500 | Sterile filtered Rhesus monkey serum, 500ml | Equitech | 500 ml | 6017.55€ | | Pub |
| SRT-0050 | Sterile filtered rat serum, 50ml | Equitech | 50 ml | 217.35€ | | Pub |
| SS-0500 | Sterile filtered sheep serum, 500ml | Equitech | 500 ml | 205.8€ | | Pub |
| TC32/80 | CSL Thermal Cycler with CombiBlock for 0.2ml and 0.5ml tubes | Cleaver | 1 | 4050€ | | Pub |
| TVT-03-50 | 50 x 3ml Vacuum Blood Collection Tubes containing K3EDTA & TransFix | Cytomark | | 446.25€ | | Pub |
|   OP-0001-3 |  EpiQuik Superoxide Dismutase Activity Inhibition Assay Kit (Colorimetric) (5x96 assays) | EpigenTek | | 397€ | | Pub |
|   OP-0004-2 |  CytoX Red Cell Proliferation Cytotoxicity Assay Kit (5x96 assays) | EpigenTek | | 214€ | | Pub |
|   OP-0005-1 |  CytoX Violet Cell Proliferation Cytotoxicity Assay Kit (5x96 assays) | EpigenTek | | 174€ | | Pub |
| BAB100-0050 | Borellia grade BSA powder, Borellia and Leptospira growth tested, 50gm | Equitech | | 238.76€ | | Pub |
| BAB100-0500 | Borellia grade BSA powder, Borellia and Leptospira growth tested, 500gm | Equitech | | 490.44€ | | Pub |
| BAC61-0050 | Fraction V Microbiological grade BSA powder, 50gm | Equitech | | 193€ | | Pub |
| BAC61-0500 | Fraction V Microbiological grade BSA powder, 500gm | Equitech | | 364.6€ | | Pub |
| BAC62-0050 | Fraction V BSA powder, pH 7, 50gm | Equitech | | 221.6€ | | Pub |
| BAC62-0500 | Fraction V BSA powder, pH 7, 500gm | Equitech | | 450.4€ | | Pub |
| BAC63-0050 | Fraction V BSA powder, pH 5.2, 50gm | Equitech | | 206€ | | Pub |
| BAC63-0500 | Fraction V BSA powder, pH 5.2, 500gm | Equitech | | 414€ | | Pub |
| BAC65-0050 | Fraction V BSA powder, protease free, 50gm | Equitech | | 250.2€ | | Pub |
| BAC65-0500 | Fraction V BSA powder, protease free, 500gm | Equitech | | 479€ | | Pub |
| BAH-0050 | Low endotoxin heat shock BSA powder, 50gm | Equitech | | 206€ | | Pub |
| BAH-0500 | Low endotoxin heat shock BSA powder, 500gm | Equitech | | 362€ | | Pub |
| BAH62-0050 | Standard grade heat shock BSA powder, pH 7, 50gm | Equitech | | 154€ | | Pub |
| BAH62-0500 | Standard grade heat shock BSA powder, pH 7, 500gm | Equitech | | 310€ | | Pub |
| BAH63-0050 | Standard grade heat shock BSA powder, pH 5.2, 50gm | Equitech | | 154€ | | Pub |
| BAH63-0500 | Standard grade heat shock BSA powder, pH 5.2, 500gm | Equitech | | 310€ | | Pub |
| BAH64-0050 | Reagent grade heat shock BSA powder, 50gm | Equitech | | 206€ | | Pub |
| BAH64-0500 | Reagent grade heat shock BSA powder, 500gm | Equitech | | 336€ | | Pub |
| BAH65-0050 | Protease free heat shock BSA powder, 50gm | Equitech | | 180€ | | Pub |
| BAH65-0500 | Protease free heat shock BSA powder, 500gm | Equitech | | 336€ | | Pub |
| BAH66-0050 | Fatty acid free heat shock BSA powder, 50gm | Equitech | | 250.2€ | | Pub |
| BAH66-0500 | Fatty acid free heat shock BSA powder, 500gm | Equitech | | 479€ | | Pub |
| BAH67-0100 | Protease, DNASE free heat shock BSA powder, 100gm | Equitech | | 310€ | | Pub |
| BCSU-0500 | Non-sterile calf serum, 500ml | Equitech | | 79.12€ | | Pub |
| BL63-0500 | Fraction V 30% BSA solution, 500ml | Equitech | | 221€ | | Pub |
| BPUC-0500 | Non-sterile bovine plasma with sodium citrate, 500ml | Equitech | | 82.76€ | | Pub |
| BSU-0500 | Non-sterile bovine serum, 500ml | Equitech | | 79.12€ | | Pub |
| CAS-0500 | Non-sterile canine serum, 500ml | Equitech | | 382.8€ | | Pub |
| CASA-0500 | Canine serum albumin lyophilized powder, 500mg | Equitech | | 934€ | | Pub |
| CMPC-0050 | Non-sterile Cynomolgus monkey plasma with sodium citrate,50ml | Equitech | | 798.8€ | | Pub |
| CMPC-0500 | Non-sterile Cynomolgus monkey plasma with sodium citrate, 500ml | Equitech | | 5666€ | | Pub |
| CMPE-0050 | Non-sterile Cynomolgus monkey plasma with EDTA, 50ml | Equitech | | 798.8€ | | Pub |
| CMPE-0500 | Non-sterile Cynomolgus monkey plasma with EDTA, 500ml | Equitech | | 5666€ | | Pub |
| CMPH-0050 | Non-sterile Cynomolgus monkey plasma with heparin, 50ml | Equitech | | 798.8€ | | Pub |
| CMPH-0500 | Non-sterile Cynomolgus monkey plasma with heparin, 500ml | Equitech | | 5666€ | | Pub |
| CMS-0050 | Non-sterile Cynomolgus monkey serum, 50ml | Equitech | | 715.6€ | | Pub |
| CMS-0500 | Non-sterile Cynomolgus monkey serum, 500ml | Equitech | | 5042€ | | Pub |
| CPP500 | CRF Anti-Polyvalent HRP Polymer (DAB) Lab Pack | Scy tek | 5000 Slides | 4195€ | | Pub |
| EAP500 | EconoTek Alk-Phos Anti-Polyvalent Lab Pack | Scy tek | 5000 Slides | 576€ | | Pub |
| EHP500 | EconoTek HRP Anti-Polyvalent Lab Pack | Scy tek | 5000 Slides | 533€ | | Pub |
| Rlp500 | Retrieval HRP Anti-Polyvalent Lab Pack | Scy tek | 5000 Slides | 1181€ | | Pub |
| SAM500 | SensiTek Alk-Phos Anti-Mouse Lab Pack | Scy tek | 5000 Slides | 674€ | | Pub |
| SAP500 | SensiTek Alk-Phos Anti-Polyvalent Lab Pack | Scy tek | 5000 Slides | 744€ | | Pub |
| SAR500 | SensiTek Alk-Phos Anti-Rabbit Lab Pack | Scy tek | 5000 Slides | 674€ | | Pub |
| SG-0500 | Sterile filtered goat serum, 0.2 micron, 500ml | Equitech | | 112€ | | Pub |
| SG-0500HI | Sterile filtered goat serum, 0.2 micron, 500ml, heat inactivated | Equitech | | 118€ | | Pub |
| SHM500 | SensiTek HRP Anti-Mouse Lab Pack | Scy tek | 5000 Slides | 624€ | | Pub |
| SHP500 | SensiTek HRP Anti-Polyvalent Lab Pack | Scy tek | 5000 Slides | 684€ | | Pub |
| SHR500 | SensiTek HRP Anti-Rabbit Lab Pack | Scy tek | 5000 Slides | 624€ | | Pub |
| UAM500 | UltraTek Alk-Phos Anti-Mouse Lab Pack | Scy tek | 5000 Slides | 1181€ | | Pub |
| UAP500 | UltraTek Alk-Phos Anti-Polyvalent Lab Pack | Scy tek | 5000 Slides | 1708€ | | Pub |
| UAR500 | UltraTek Alk-Phos Anti-Rabbit Lab Pack | Scy tek | 5000 Slides | 1181€ | | Pub |
| UHM500 | UltraTek HRP Anti-Mouse Lab Pack | Scy tek | 5000 Slides | 850€ | | Pub |
| UHP500 | UltraTek HRP Anti-Polyvalent Lab Pack | Scy tek | 5000 Slides | 1067€ | | Pub |
| UHR500 | UltraTek HRP Anti-Rabbit Lab Pack | Scy tek | 5000 Slides | 850€ | | Pub |
| 0-121-0002 | Model 150 V T Ultrasonic Homogenizer, 230V 50Hz | BioLogics,Inc | | 2218€ | | Pub |
| 0-121-0002 | ULTRASONIC HOMOGENIZERS: Model 150 V T Ultrasonic Homogenizer, 230V 50Hz | BioLogics,Inc | | 2203€ | | Pub |
| 0-122-0002 | Model 300 V T Ultrasonic Homogenizer, 230V 50Hz | BioLogics,Inc | | 2878€ | | Pub |
| 0-122-0002 | ULTRASONIC HOMOGENIZERS: Model 300 V T Ultrasonic Homogenizer, 230V 50Hz | BioLogics,Inc | | 2858€ | | Pub |
| 0-127-0002 | Model 3000 Ultrasonic Homogenizer, 230V 50Hz | BioLogics,Inc | | 3373€ | | Pub |
| 0-128-0002 | ULTRASONIC HOMOGENIZERS: Model 3000MP Ultrasonic Homogenizer, 230V 50Hz | BioLogics,Inc | | 3814€ | | Pub |
| 000493A | DNASE I | ABM Goods | 250ul | 621€ | | Pub |
| 000678A | mTOR1 (1 524a.a.) | ABM Goods | 250ul | 621€ | | Pub |
| 000782A | mLin28 | ABM Goods | 250ul | 1659€ | | Pub |
| 001-03 | ACTH [D Arg8](4 10)(Human) 500ug | Phoenix Peptide | 500 µg | 192€ | | Pub |
| 010-19771 | Anti VGLUT-1 Rat, polyclonal, Rabbit Antibodies | B-Bridge | 50UG | 526.5€ | | Pub |
| 010-19771 | Anti VGLUT 1 Rat, polyclonal, Rabbit | B-Bridge | 50UG | 594.678€ | | Pub |
| 011-22033 | Anti AGO2 Human, Monoclonal Antibody | B-Bridge | 50ul | 594.678€ | | Pub |
| 011-22033 | Anti AGO2 Human, Monoclonal Antibody Antibodies | B-Bridge | 50ul | 526.5€ | | Pub |
| 014-22023 | Anti AGO2 Mouse, Monoclonal Antibody | B-Bridge | 50ul | 594.678€ | | Pub |
| 014-22023 | Anti AGO2 Mouse, Monoclonal Antibody Antibodies | B-Bridge | 50ul | 526.5€ | | Pub |
| 015-22411 | Anti Ago1, Monoclonal Antibody (2A7) Antibodies | B-Bridge | 50ul | 526.5€ | | Pub |
| 017-19781 | Anti Rat VGLUT-2, Rabbit Antibodies | B-Bridge | 50UG | 526.5€ | | Pub |
| 017-19781 | Anti Rat VGLUT 2, Rabbit | B-Bridge | 50UG | 594.678€ | | Pub |
| 018-22401 | Anti Ago1, Monoclonal Antibody (1F2) Antibodies | B-Bridge | 50ul | 526.5€ | | Pub |
| 018-23241 | Anti Human AGO3, Monoclonal Antibody (1C12) Antibodies | B-Bridge | 50ul | 526.5€ | | Pub |
| 02267-41 | Signal Enhancer HIKARI for Western Blotting and ELISA (50ml) | Nacalai | 1SET | 182€ | | Pub |
| 05176-25 | RPMI 1640 without L‐Gln, liquid | Nacalai | 500ML | 118€ | | Pub |
| 10-174 | 0.2ml Thin Wall PCR Tubes | Genesee | | 117€ | | Pub |
| 1085-100 | Active Human Caspase 5100 units | Biovision | 100 units | 295.785€ | | Pub |
| 11009 | PTEN(Phospho-Ser380) Antibody, Rabbit Polyconal Ab, Human Mouse Rat | SignalWay Antibody S.A.B | 50ul | 190€ | | Pub |
| 11011 | NFκB-p65(Phospho-Ser276) Antibody, Rabbit Polyconal Ab, Human Mouse Rat | SignalWay Antibody S.A.B | 50ul | 190€ | | Pub |
| 11012 | NFκB-p65(Phospho-Thr435) Antibody Source Rabbit Polyconal Ab Species Human Mouse Rat Application WB IHC | SignalWay Antibody S.A.B | 50ul | 224€ | | Pub |
| 11013 | NFκB-p65(Phospho-Ser468) Antibody, Rabbit Polyconal Ab, Human Mouse Rat | SignalWay Antibody S.A.B | 50ul | 190€ | | Pub |
| 11015 | NFκB-p100 p52(Phospho-Ser866) Antibody, Source: Rabbit Polyconal Ab, Species reactivity: Human Mouse Rat | SignalWay Antibody S.A.B | 50ul | 190€ | | Pub |
| 11016 | NFκB-p100 p52(Phospho-Ser870) Antibody, Rabbit Polyconal Ab, Human Mouse Rat | SignalWay Antibody S.A.B | 50ul | 190€ | | Pub |
| 11017 | NFκB-p105 p50(Phospho-Ser337) Antibody, Rabbit Polyconal Ab, Human Mouse Rat | SignalWay Antibody S.A.B | 50ul | 190€ | | Pub |
| 11018 | NFκB-p105 p50(Phospho-Ser893) Antibody, Rabbit Polyconal Ab, Human | SignalWay Antibody S.A.B | 50ul | 190€ | | Pub |
| 11019 | NFκB-p105 p50(Phospho-Ser907) Antibody, Source: Rabbit Polyconal Ab, Species reactivity: Human | SignalWay Antibody S.A.B | 50ul | 190€ | | Pub |
| 11043 | HNF4α (Phospho-Ser304) Antibody Source Rabbit Polyconal Ab Species Human Mouse Rat Application WB | SignalWay Antibody S.A.B | 50ul | 224€ | | Pub |
| 11062 | PTEN(Phospho-Ser370) Antibody, Source: Rabbit Polyconal Ab, Species reactivity: Human Mouse Rat | SignalWay Antibody S.A.B | 50ul | 190€ | | Pub |
| 11066 | BCL-XL(Phospho-Ser62) Antibody, Rabbit Polyconal Ab, Human Mouse Rat | SignalWay Antibody S.A.B | 50ul | 190€ | | Pub |
| 11087 | IGF-1R(Phospho-Tyr1161) Antibody, Source: Rabbit Polyconal Ab, Species reactivity: Human Mouse Rat | SignalWay Antibody S.A.B | 50ul | 190€ | | Pub |
| 11091 | Src(Phospho-Tyr418) Antibody, Source: Rabbit Polyconal Ab, Species reactivity: Human Mouse Rat | SignalWay Antibody S.A.B | 50ul | 190€ | | Pub |
| 11125 | c-Abl(Phospho-Tyr412) Antibody, Rabbit Polyconal Ab, Human Mouse | SignalWay Antibody S.A.B | 50ul | 190€ | | Pub |
| 11150 | JAK2(Phospho-Tyr221) Antibody, Source: Rabbit Polyconal Ab, Species reactivity: Human Mouse Rat | SignalWay Antibody S.A.B | 50ul | 190€ | | Pub |
| 11157 | FKHRL1(Phospho-Ser253) Antibody, Source: Rabbit Polyconal Ab, Species reactivity: Human Mouse Rat | SignalWay Antibody S.A.B | 50ul | 190€ | | Pub |
| 11188 | Ephrin-B2 (Phospho-Tyr316) Antibody Source Rabbit Polyconal Ab Species Human Mouse Application WB | SignalWay Antibody S.A.B | 50ul | 224€ | | Pub |
| 11189 | Ephrin-B2 (Phospho-Tyr330) Antibody Source Rabbit Polyconal Ab Species Human Mouse Application WB | SignalWay Antibody S.A.B | 50ul | 224€ | | Pub |
| 11211 | Tyrosine Hydroxylase (Phospho-Ser31) Antibody Source Rabbit Polyconal Ab Species Human Rat Application WB | SignalWay Antibody S.A.B | 50ul | 224€ | | Pub |
| 11215 | FAK (Phospho-Tyr397) Antibody Source Rabbit Polyconal Ab Species Human Rat Application WB | SignalWay Antibody S.A.B | 50ul | 224€ | | Pub |
| 11241 | SP1 (Phospho-Thr739) Antibody Source Rabbit Polyconal Ab Species Human Rat Application WB | SignalWay Antibody S.A.B | 50ul | 224€ | | Pub |
| 11330 | α-catenin (Phospho-Ser641) Antibody Source Rabbit Polyconal Ab Species Human Mouse Application WB | SignalWay Antibody S.A.B | 50ul | 224€ | | Pub |
| 11531 | VEGFR2 (phospho-Tyr1059) Antibody Source Rabbit Polyconal Ab Species Human Mouse Application WB | SignalWay Antibody S.A.B | 50ul | 224€ | | Pub |
| 11536 | Stat2 (phospho-Tyr690) Antibody Source Rabbit Polyconal Ab Species Human Application WB | SignalWay Antibody S.A.B | 50ul | 224€ | | Pub |
| 11541 | Cyclin E1 (phospho-Thr395) Antibody Source Rabbit Polyconal Ab Species Human Application WB | SignalWay Antibody S.A.B | 50ul | 224€ | | Pub |
| 11558 | Interferon-a Receptor Type I Subunit I (phospho-Ser535 Ser539) Antibody, Rabbit Polyconal Ab, Species Reactivity: Human | SignalWay Antibody S.A.B | 50ul | 214€ | | Pub |
| 11568 | Synapsin (phospho-Ser549) Antibody Source Rabbit Polyconal Ab Species Human Mouse Rat Application WB | SignalWay Antibody S.A.B | 50ul | 224€ | | Pub |
| 11570 | Tau (phospho-Ser416) Antibody Source Rabbit Polyconal Ab Species Rat Application WB | SignalWay Antibody S.A.B | 50ul | 224€ | | Pub |
| 11572 | CK2α (phospho-Thr360 Ser362) Antibody Source Rabbit Polyconal Ab Species Human Mouse Rat Application WB | SignalWay Antibody S.A.B | 50ul | 224€ | | Pub |
| 11574 | β-catenin (phospho-Tyr333) Antibody Source Rabbit Polyconal Ab Species Human Application WB | SignalWay Antibody S.A.B | 50ul | 224€ | | Pub |
| 11578 | Niban (Phospho-Ser602) Antibody, Rabbit Polyconal Ab, Species Reactivity: Human | SignalWay Antibody S.A.B | 50ul | 214€ | | Pub |
| 11579 | Smad1 (Phospho-Ser206) Antibody , Rabbit Polyconal Ab, Species Reactivity: Human Mouse Rat | SignalWay Antibody S.A.B | 50ul | 214€ | | Pub |
| 11580 | S6 Ribosomal Protein (Phospho-Ser235 236) Antibody , Rabbit Polyconal Ab, Species Reactivity: Human Mouse Rat | SignalWay Antibody S.A.B | 50ul | 214€ | | Pub |
| 11581 | P38 MAPK(Phospho-Thr180 Tyr182) Antibody , Rabbit Polyconal Ab, Species Reactivity: Human Mouse Rat | SignalWay Antibody S.A.B | 50ul | 214€ | | Pub |
| 11582 | Histone H3 (Tri-Methyl-Lys27) Antibody, Rabbit Polyconal Ab, Species Reactivity: Human Mouse Rat | SignalWay Antibody S.A.B | 50ul | 214€ | | Pub |
| 11583 | Histone H3 (Di-Methyl-Lys27) Antibody , Rabbit Polyconal Ab, Species Reactivity: Human Mouse Rat | SignalWay Antibody S.A.B | 50ul | 214€ | | Pub |
| 11585 | Met (Phospho-Tyr1234 1235) Antibody, Rabbit Polyconal Ab, Human Mouse Rat | SignalWay Antibody S.A.B | 50ul | 190€ | | Pub |
| 14-262 | 1.2ml Microtitertube Racked, Sterile | Genesee | 10 Racks of 96 Tubes/Unit | 90€ | | Pub |
| 1614-1 | BMS-599626; Appearance Crystalline solid | Biovision | 1 mg | 353.43€ | | Pub |
| 1614-1 | BMS 599626 | Biovision | 1 mg | 353€ | | Pub |
| 1614-5 | BMS-599626; Appearance Crystalline solid | Biovision | 5 mg | 977.13€ | | Pub |
| 1614-5 | BMS 599626 | Biovision | 5 mg | 977€ | | Pub |
| 1624-100 | Lapatinib Ditosylate (Tykerb, Tyverb, GW-572016); Appearance Yellow solid | Biovision | 100 mg | 353.43€ | | Pub |
| 1624-100 | Lapatinib Ditosylate (Tykerb, Tyverb, GW 572016) | Biovision | 100 mg | 353€ | | Pub |
| 1624-25 | Lapatinib Ditosylate (Tykerb, Tyverb, GW-572016); Appearance Yellow solid | Biovision | 25 mg | 177.66€ | | Pub |
| 1624-25 | Lapatinib Ditosylate (Tykerb, Tyverb, GW 572016) | Biovision | 25 mg | 176€ | | Pub |
| 1625-100 | Imatinib Mesylate (CGP-57148B, STI-571); Appearance White to off-white solid | Biovision | 100 mg | 136.08€ | | Pub |
| 1625-100 | Imatinib Mesylate (CGP 57148B, STI 571) | Biovision | 100 mg | 135€ | | Pub |
| 1625-1000 | Imatinib Mesylate (CGP-57148B, STI-571); Appearance White to off-white solid | Biovision | 1 g | 385.56€ | | Pub |
| 1625-1000 | Imatinib Mesylate (CGP 57148B, STI 571) | Biovision | 1 g | 384€ | | Pub |
| 1645-05 | SU 5402 | Biovision | 500 µg | 197€ | | Pub |
| 1685-5 | ATM Kinase Inhibitor, KU-55933 | Biovision | 5 mg | 211€ | | Pub |
| 1685-5 | ATM Kinase Inhibitor, KU-55933; Appearance White solid | Biovision | 5 mg | 219.24€ | | Pub |
| 1974-25 | ML130 | Biovision | 25 mg | 382€ | | Pub |
| 1974-25 | ML130; Appearance White solid | Biovision | 25 mg | 400.68€ | | Pub |
| 1974-5 | ML130 | Biovision | 5 mg | 133€ | | Pub |
| 1974-5 | ML130; Appearance White solid | Biovision | 5 mg | 136.08€ | | Pub |
| 20-273 | Agar, Powdered Bacto-Style Bacteriological Grade | Genesee | 500g/Unit | 99€ | | Pub |
| 200100 | pOET sequencing primers | OET | 2 x 100 | 176.841€ | | Pub |
| 21-126 | Culture Tubes, 12x75, PP Polypropylene, Sterile | Genesee | 8 Bags of 125 Tubes/Unit | 178€ | | Pub |
| 21-235 | 3ml Test Tubes, 12x55mm | Genesee | | 99€ | | Pub |
| 21-255 | Screw Cap Tubes & O-Ring Caps Tubes 2.0ml ScrewCap Tubes,Sterile Not Self-Standing, Caps On | Genesee | 5 Bags of 100 Tubes/Unit | 116€ | | Pub |
| 21081 | Quest Fluo 8™, AM | AAT Bioquest | 5x50 ug | 130€ | | Pub |
| 21117 | Chk2 (Ab-516) Antibody Source Rabbit Polyconal Ab Species Human Application WB | SignalWay Antibody S.A.B | 50ul | 195€ | | Pub |
| 21121 | Quest Rhod 4™, AM | AAT Bioquest | 5x50 ug | 202€ | | Pub |
| 21128 | Quest Rhod 4™, sodium salt | AAT Bioquest | 5x50 ug | 280€ | | Pub |
| 21142 | Cal-520FF™, AM | AAT Bioquest | 1 mg | 436€ | | Pub |
| 21143 | Cal-520FF™, AM | AAT Bioquest | 10x50 ug | 319€ | | Pub |
| 21144 | Cal-520FF™, potassium salt | AAT Bioquest | 10x50 ug | 319€ | | Pub |
| 21167 | Lck(Ab-394) Antibody Source Rabbit Polyconal Ab Species Human Mouse Application WB | SignalWay Antibody S.A.B | 50ul | 195€ | | Pub |
| 21171 | FKHRL1(Ab-253) Antibody Source Rabbit Polyconal Ab Species Human Mouse Rat Application WB | SignalWay Antibody S.A.B | 50ul | 195€ | | Pub |
| 21208 | FAK (Ab-397) Antibody Source Rabbit Polyconal Ab Species Human Rat Application WB | SignalWay Antibody S.A.B | 50ul | 195€ | | Pub |
| 21294 | Tyrosine Hydroxylase (Ab-31) Antibody Source Rabbit Polyconal Ab Species Mouse Rat Application WB | SignalWay Antibody S.A.B | 50ul | 195€ | | Pub |
| 21328 | TrkB (Ab-705) Antibody Source Rabbit Polyconal Ab Species Human Mouse Rat Application WB | SignalWay Antibody S.A.B | 50ul | 195€ | | Pub |
| 21330 | α-catenin (Ab-641) Antibody Source Rabbit Polyconal Ab Species Human Mouse Application WB | SignalWay Antibody S.A.B | 50ul | 195€ | | Pub |
| 21334 | SLK1 Antibody Source Rabbit Polyconal Ab Species Human Application WB | SignalWay Antibody S.A.B | 50ul | 195€ | | Pub |
| 21423 | Nanog Antibody Source Rabbit Polyconal Ab Species Human Mouse Application WB | SignalWay Antibody S.A.B | 50ul | 195€ | | Pub |
| 21426 | Lin28 Antibody Source Rabbit Polyconal Ab Species Human Mouse Rat Application WB | SignalWay Antibody S.A.B | 50ul | 195€ | | Pub |
| 21428 | MEK1 2 Antibody Source Rabbit Polyconal Ab Species Human Mouse Rat Application WB | SignalWay Antibody S.A.B | 50ul | 195€ | | Pub |
| 21430 | ASPSCR1 Antibody Source Rabbit Polyconal Ab Species Human Application WB | SignalWay Antibody S.A.B | 50ul | 195€ | | Pub |
| 21431 | TFE3 Antibody Source Rabbit Polyconal Ab Species Human Mouse Application WB | SignalWay Antibody S.A.B | 50ul | 195€ | | Pub |
| 21432 | EWS Antibody Source Rabbit Polyconal Ab Species Human Mouse Rat Application WB | SignalWay Antibody S.A.B | 50ul | 195€ | | Pub |
| 21433 | FLI1 Antibody Source Rabbit Polyconal Ab Species Human Application WB | SignalWay Antibody S.A.B | 50ul | 195€ | | Pub |
| 21436 | MDM2 Antibody Source Rabbit Polyconal Ab Species Human Application WB | SignalWay Antibody S.A.B | 50ul | 195€ | | Pub |
| 21437 | CDK4 Antibody Source Rabbit Polyconal Ab Species Human Application WB | SignalWay Antibody S.A.B | 50ul | 195€ | | Pub |
| 21438 | SYT Antibody Source Rabbit Polyconal Ab Species Human Mouse Rat Application WB | SignalWay Antibody S.A.B | 50ul | 195€ | | Pub |
| 21440 | MCL1 Antibody Source Rabbit Polyconal Ab Species Human Application WB | SignalWay Antibody S.A.B | 50ul | 195€ | | Pub |
| 21441 | MAP2K4 Antibody Source Rabbit Polyconal Ab Species Human Mouse Rat Application WB | SignalWay Antibody S.A.B | 50ul | 195€ | | Pub |
| 21445 | GABA A Receptor a 3 Antibody Source Rabbit Polyconal Ab Species Human Mouse Rat Application WB | SignalWay Antibody S.A.B | 50ul | 195€ | | Pub |
| 21449 | GRASP Antibody Source Rabbit Polyconal Ab Species Human Mouse Rat Application WB | SignalWay Antibody S.A.B | 50ul | 195€ | | Pub |
| 21451 | Periostin Antibody Source Rabbit Polyconal Ab Species Human Mouse Rat Application WB | SignalWay Antibody S.A.B | 50ul | 195€ | | Pub |
| 21452 | synaptophysin 2 Antibody Source Rabbit Polyconal Ab Species Rat Application WB | SignalWay Antibody S.A.B | 50ul | 195€ | | Pub |
| 21456 | PKM1 2 Antibody Source Rabbit Polyconal Ab Species Human Application WB | SignalWay Antibody S.A.B | 50ul | 195€ | | Pub |
| 21457 | PRLR Antibody Source Rabbit Polyconal Ab Species Human Application WB | SignalWay Antibody S.A.B | 50ul | 195€ | | Pub |
| 21459 | FBXL3 Antibody Source Rabbit Polyconal Ab Species Mouse Application WB | SignalWay Antibody S.A.B | 50ul | 195€ | | Pub |
| 21466 | Eif1 Antibody Source Rabbit Polyconal Ab Species Drosophila Application WB | SignalWay Antibody S.A.B | 50ul | 195€ | | Pub |
| 21468 | CD56(NCAM) Antibody Source Rabbit Polyconal Ab Species Human Mouse Application WB | SignalWay Antibody S.A.B | 50ul | 195€ | | Pub |
| 21469 | CD34 Antibody Source Rabbit Polyconal Ab Species Human Mouse Rat Application WB | SignalWay Antibody S.A.B | 50ul | 195€ | | Pub |
| 21471 | CD44 Antibody Source Rabbit Polyconal Ab Species Human Rat Application WB | SignalWay Antibody S.A.B | 50ul | 195€ | | Pub |
| 21475 | REST Antibody Source Rabbit Polyconal Ab Species Human Application WB | SignalWay Antibody S.A.B | 50ul | 195€ | | Pub |
| 21476 | CD Marker ABCG2(CD338) Antibody | SignalWay Antibody S.A.B | 50ul | 236€ | | Pub |
| Cat_Number | Product name | Supplier | Quantity | Price | PDF | Pub |