Product name :Tissue Filter Tubes, 100 ea
Catalog Number :KA-7032
Quantity :1
Price :107 Eur
Pay now with :
Supplier :Bioneer

Tissue homogenization set is developed to convenient tissue homogenization to extract genomic DNA or total RNA from the animal tissue using specialized Tissue filter tube and Tissue stick by grinding. The Tissue filter tube do not allowed re-use and after the use of the Tissue filter tube, the Tissue filter tube box can used like as sample storage rack.
Procedure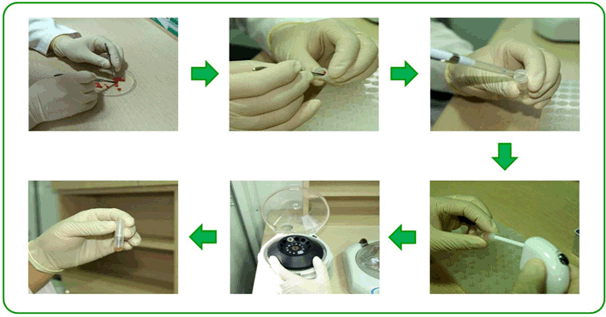 Warnings
- Do not use more than 50mg of animal tissue onto the Tissue filter tube. It will deduce the disruption efficiency.
- Do not add more than 400ul of the Tissue lysis buffer into the Tissue filter tube to prevent spill over during homogenization.
- Insufficient homogenization will affect the quality of the extracted genomic DNA and total RNA, low yield and purity.
- Tissue mixer is worked with 1.5V alkaline battery(AA size).
Contents
Tissue Homogenization Set (KA-7030)
Tissue Stick - 100 ea
Tissue Filter Tube - 100ea
Tissue Mixer - 1 ea
Tissue Stick (KA-7031)
Tissue Stick - 100 ea
Tissue Filter Tube (KA-7032)
Tissue Filter Tube - 100ea
Tissue Mixer (KA-7033) Tissue Mixer - 1 ea
[Related Products]Tissue Filter Tubes, 100 ea
Filter:
(Type enter to validate)
| Cat_Number | Product name | Supplier | Quantity | Price | Tech | More |
| --- | --- | --- | --- | --- | --- | --- |
| KA-7032 | Tissue Filter Tubes, 100 ea | Bioneer | 1 | 107€ | | Pub |
| 70075 | Tissue Culture Flask with Filter Cap,PS, 75cm2, TC treated, Sterile to SAL10-6, 5 100 case box size(mm):455x340x415 | SPL | 5/100 Packing /sleeve/box | 163€ | | Pub |
| KA-7031 | Tissue Homogenization Sticks, 100 ea | Bioneer | 1 | 154€ | | Pub |
| EAC999 | EA-50 Stain Solution | Scy tek | 1000 ml | 101€ | | Pub |
| EAD999 | EA-65 Stain Solution | Scy tek | 1000 ml | 93€ | | Pub |
| FRT999 | Fast-Red Tablets | Scy tek | 1000 ea. | 857€ | | Pub |
| SG-0100 | Sterile filtered goat serum, 0.2 micron, 100ml | Equitech | | 85€ | | Pub |
| SG-0100HI | Sterile filtered goat serum, 0.2 micron, 100ml, heat inactivated | Equitech | | 87€ | | Pub |
| SRT-0100HI | Sterile filtered rat serum, 0.2 micron, 100ml, heat inactivated | Equitech | | 208€ | | Pub |
| 101350 | Confocal Dish,PS,clear, 35x10mm, coverglass(22x22x0.13mm) Adhesion type, easy grip, Sterile to SAL10-6,5 100 case NEW RELEASE box size(mm):275x180x160 | SPL | 5/100 Packing /sleeve/box | 202€ | | Pub |
| 1957-25 | StemBoost™ YPAC Cocktail Set (1000X), Sterile Filtered, StemBoost™ | Biovision | 5 mg | 137.97€ | | Pub |
| 1998-1 | Dounce Tissue Grinder | Biovision | 1 ea | 308€ | | Pub |
| 21-255 | Screw Cap Tubes & O-Ring Caps Tubes 2.0ml ScrewCap Tubes,Sterile Not Self-Standing, Caps On | Genesee | 5 Bags of 100 Tubes/Unit | 116€ | | Pub |
| 228-10350-3 | Recombinant EBV EA Proteins | Ray Biotech | 1000 | 1031€ | | Pub |
| 3102.X | Cryo tubes & Vials 2.0 ml Cryovial with Locking Base | Biotix | 100 per bag, 10 bags per case | 393€ | | Pub |
| 3103.X | Cryo tubes & Vials 3.0 ml Cryovial with Locking Base | Biotix | 100 per bag, 10 bags per case | 398€ | | Pub |
| 3104.X | Cryo tubes & Vials 4.0 ml Cryovial with Locking Base | Biotix | 100 per bag, 10 bags per case | 452€ | | Pub |
| 3423.X | 0.2 ml PCR Tube Flat cap, 1000 tubes pack 10 packs case | Biotix | | 333€ | | Pub |
| 3425.X | 0.2 ml PCR Tube Dome cap 10 bags of 100 tubes pack 10 packs per case | Biotix | | 333€ | | Pub |
| 3737.X | 0.6 ml PCR tubes 1000 per bag, 10 bags per case | Biotix | | 291€ | | Pub |
| 70025 | Tissue Culture Flask with Filter Cap,PS, 25cm2, TC treated, Sterile to SAL10-6, 5 200 case box size(mm):415x285x310 | SPL | 5/200 Packing /sleeve/box | 163€ | | Pub |
| 70175 | Tissue Culture Flask with Plugged Cap,PS, 75cm2, TC treated, Sterile to SAL10-6, 5 100 case box size(mm):455x340x415 | SPL | 5/100 Packing /sleeve/box | 158€ | | Pub |
| AD2081 | Adrenal gland disease spectrum (adrenal cancer progression) tissue array, 100 cases 200 cores | US Biomax | | 456€ | | Pub |
| BBX24-CE | Bullet Blender homogenizer, CE certified, for up to 24 tissue cell samples in snap cap microcentrifuge tubes. | Next Advence | | 2502€ | | Pub |
| BBX24W-CE | Bullet Blender homogenizer, CE certified, for up to 24 tissue cell samples in screw cap microcentrifuge tubes. | Next Advence | | 2502€ | | Pub |
| BC01114 | Stomach adenocarcinoma with matched adjacent tissue and normal tissue array, including TNM, clinical stage and pathology grade, 55 cases 100 cores | US Biomax | | 231€ | | Pub |
| BC03118 | Liver carcinoma and normal tissue array, including TNM, clinical stage and pathology grade, 100 cases 200 cores | US Biomax | | 456€ | | Pub |
| BC04002 | Lung disease spectrum tissue array, including TNM, clinical stage and pathology grade, 99 cases 100 cores | US Biomax | | 266€ | | Pub |
| BC041114 | Lung carcinoma and normal tissue array, including TNM, clinical stage and pathology grade, 100 cases 200 cores | US Biomax | | 456€ | | Pub |
| BC04118 | Lung squamous cell carcinoma and adjacent normal tissue array, including TNM, clinical stage and pathology grade, 50 cases 100 cores | US Biomax | | 231€ | | Pub |
| BC051111 | Colon cancer and normal tissue array, including TNM, clinical stage and pathology grade, 100 cases 200 cores | US Biomax | | 456€ | | Pub |
| BC05118 | Colon cancer and matched adjacent normal tissue array, including TNM, clinical stage and pathology grade, 50 cases 100 cores | US Biomax | | 266€ | | Pub |
| BC05118a | Colon cancer tissue array with matched adjacent normal colon tissue, including TNM, clinical stage and pathology grade, 50 cases 100 cores, replacing BC05118; ihc Anti-Actin confirmed | US Biomax | | 296€ | | Pub |
| BC07114 | Kidney clear cell carcinoma tissue array, including TNM and pathology grade, 100 cases 200 cores | US Biomax | | 558€ | | Pub |
| BC08118 | Breast invasive ductal carcinoma tissue array, including TNM and pathology grade, 100 cases 100 cores | US Biomax | | 321€ | | Pub |
| BC11115 | Ovary serous papillary adenocarcinoma, lymph node metastasis with adjacent normal ovary tissue array, including TNM and pathology grade, 100 cases 100 cores | US Biomax | | 321€ | | Pub |
| BC17012 | Medulloblastoma of brain tissue array, 100 cases 100 cores | US Biomax | | 277€ | | Pub |
| BL1001 | Bladder cancer tissue array for antibody screening, including TNM, clinical stage and pathology grade, 25 cases 100 cores | US Biomax | | 266€ | | Pub |
| BL1002 | Bladder cancer and normal tissue array, including TNM and pathology grade, 50 cases 100 cores | US Biomax | | 266€ | | Pub |
| BN1002 | Multiple organ (20) normal tissue array, 100 cases 100 cores, replacing BN1001 | US Biomax | | 266€ | | Pub |
| BN1002a | Multiple organ normal tissue array, 100 cases 100 cores, replacing BN1002; ihc Anti-Actin confirmed | US Biomax | | 296€ | | Pub |
| BR1001 | Breast cancer tissue array with matched carcinoma metastasis to lymph nodes, 50 cases 100 cores, replaced by BR1004 | US Biomax | | 314€ | | Pub |
| BR10010 | Breast cancer and matched metastatic carcinoma tissue array, including TNM and pathology grade, 50 cases 100 cores, replacing BR1004 | US Biomax | | 314€ | | Pub |
| BR10010a | Breast cancer and matched metastatic carcinoma tissue array, including TNM and pathology grade, with ER, PR and Her-2 (neu) IHC results, 50 cases 100 cores, replacing BR10010; ihc Anti-Actin confirme | US Biomax | | 296€ | | Pub |
| BR1002 | Tissue microarray of breast cancer and normal tissue, 97 cases 100 cores, with stage and grade information | US Biomax | | 266€ | | Pub |
| BR1003 | Breast pre cancerous disease and cancer tissue array (100 cases 101 cores), with clinical stage and pathology grade data | US Biomax | | 266€ | | Pub |
| BR1004 | Tissue array of breast carcinoma and matched metastasis in lymph nodes tissue arrays, 50 cases 100 cores, replaced by BR10010 | US Biomax | | 314€ | | Pub |
| BR1005a | Breast cancer and matched metastatic carcinoma of lymph node tissue array, including TNM, clinical stage and pathology grade, 50 cases 100 cores, replacing BR1005; ihc Anti-Actin confirmed | US Biomax | | 296€ | | Pub |
| BR1006 | Breast tumor tissue array of varieties and normal adjacent tissue (NAT), 50 cases 100 cores | US Biomax | | 266€ | | Pub |
| BR1007 | Breast cancer tissue array for antibody screening, including TNM, clinical stage and pathology grade, 25 cases 100 cores | US Biomax | | 266€ | | Pub |
| BR1008 | Breast cancer, carcinoma metastasize to lymph nodes and adjacent normal tissue array, including TNM and pathology grade, 100 cases 100 cores, replacing BC08212 | US Biomax | | 266€ | | Pub |
| BR1009 | Breast cancer tissue array for antibody screening , including TNM and pathology grade, 50 cases 100 cores | US Biomax | | 266€ | | Pub |
| bs-7661R | Rabbit Anti-EAF2 Polyclonal Antibody | Sepax | 100ug Lyophilized | 222€ | | Pub |
| bs-7661R-A350 | Rabbit Anti-EAF2 Polyclonal Antibody, Alexa Fluor 350 conjugated,Isotype: IgG | Sepax | 100ug Lyophilized | 323€ | | Pub |
| bs-7661R-A488 | Rabbit Anti-EAF2 Polyclonal Antibody, Alexa Fluor 488 conjugated,Isotype: IgG | Sepax | 100ug Lyophilized | 323€ | | Pub |
| bs-7661R-A555 | Rabbit Anti-EAF2 Polyclonal Antibody, Alexa Fluor 555 conjugated,Isotype: IgG | Sepax | 100ug Lyophilized | 323€ | | Pub |
| bs-7661R-A647 | Rabbit Anti-EAF2 Polyclonal Antibody, Alexa Fluor 647 conjugated,Isotype: IgG | Sepax | 100ug Lyophilized | 323€ | | Pub |
| bs-7661R-Biotin | Rabbit Anti-EAF2 Polyclonal Antibody, Biotin conjugated, Isotype: IgG | Sepax | 100ug Lyophilized | 268€ | | Pub |
| bs-7661R-Cy3 | Rabbit Anti-EAF2 Polyclonal Antibody, Cy3 conjugated, Isotype: IgG | Sepax | 100ug Lyophilized | 268€ | | Pub |
| bs-7661R-Cy5 | Rabbit Anti-EAF2 Polyclonal Antibody, Cy5 conjugated, Isotype: IgG | Sepax | 100ug Lyophilized | 268€ | | Pub |
| bs-7661R-Cy5.5 | Rabbit Anti-EAF2 Polyclonal Antibody, Cy5.5 conjugated, Isotype: IgG | Sepax | 100ug Lyophilized | 268€ | | Pub |
| bs-7661R-Cy7 | Rabbit Anti-EAF2 Polyclonal Antibody, Cy7 conjugated Isotype: IgG | Sepax | 100ug Lyophilized | 268€ | | Pub |
| bs-7661R-FITC | Rabbit Anti-EAF2 Polyclonal Antibody, FITC conjugated,Isotype: IgG | Sepax | 100ug Lyophilized | 304€ | | Pub |
| bs-7661R-Gold | Rabbit Anti-EAF2 Polyclonal Antibody, Gold conjugated Isotype: IgG | Sepax | 100ug Lyophilized | 284€ | | Pub |
| bs-7661R-HRP | Rabbit Anti-EAF2 Polyclonal Antibody, HRP conjugated Isotype: IgG | Sepax | 100ug Lyophilized | 284€ | | Pub |
| bs-7661R-PE | Rabbit Anti-EAF2 Polyclonal Antibody, PE Conjugated , 43kDa; Isotype IgG; Reactivity Human , Mouse , Rat; Application Flow-Cyt(1 20-100), IF(1 50-200) | Bioss | 100ug Lyophilized | 502€ | | Pub |
| bs-7661R-PE-Cy3 | Rabbit Anti-EAF2 Polyclonal Antibody, PE-Cy3 Conjugated , 43kDa; Isotype IgG; Reactivity Human , Mouse , Rat; Application Flow-Cyt(1 20-100), IF(1 50-200) | Bioss | 100ug Lyophilized | 530€ | | Pub |
| bs-7661R-PE-Cy5 | Rabbit Anti-EAF2 Polyclonal Antibody, PE-Cy5 conjugated Isotype: IgG | Sepax | 100ug Lyophilized | 300€ | | Pub |
| bs-7661R-PE-Cy5.5 | Rabbit Anti-EAF2 Polyclonal Antibody, PE-Cy5.5 conjugated Isotype: IgG | Sepax | 100ug Lyophilized | 300€ | | Pub |
| bs-7661R-PE-Cy7 | Rabbit Anti-EAF2 Polyclonal Antibody, PE-Cy7 conjugated Isotype: IgG | Sepax | 100ug Lyophilized | 300€ | | Pub |
| BT100 | 100 µl Barrier Tip Filtered Sterile 10 | Neptune | 4800 (in case - Racked - 96) | 248€ | | Pub |
| BT100 | 100 µl Barrier Tip, Filtered, Sterile, Low Retention, Racked 96 | Biotix | 4800 | 248€ | | Pub |
| BT1000 | 1000 µl Barrier Tip Filtered Sterile 10 | Neptune | 2400 (in case - Racked - 60) | 273€ | | Pub |
| CO1002 | Colon and rectum carcinoma and normal tissue array, 73 cases 100 cores, replaced by CO1002b | US Biomax | | 278€ | | Pub |
| CO1002b | Colorectal carcinoma and matched adjacent normal tissue array with lymph node metastasis carcinoma, including TNM and pathology grade, 64 cases 100 cores, replacing CO1002 | US Biomax | | 321€ | | Pub |
| CO1004 | Colon carcinoma tissue array for antibody screening, including TNM, clinical stage and pathology grade, 50 cases 100 cores | US Biomax | | 231€ | | Pub |
| CR1001 | Multiple uterine carcinoma tissue array with normal tissue, 49 cases 100 cores | US Biomax | | 231€ | | Pub |
| CR1003 | Cervix cancer tissue array for antibody screening, including TNM, clinical stage and pathology grade, 50 cases 100 cores | US Biomax | | 231€ | | Pub |
| D-1030-1 | AccuLadder 100 bp DNA Size Marker 100 2,000 bp | Bioneer | 315 ul x 2 tubes (54 ng/ul) | 227€ | | Pub |
| E-3122 | 5 tubes of 10,000 Units Includes 5 X reaction buffer, 100 mM DTT | Bioneer | 50000 Units | 323€ | | Pub |
| ER-14-0454 | Goat Anti- EAR2 NR2F6, (C Terminus) Antibodies | Ray Biotech | 100 μg | 257€ | | Pub |
| ER-14-1460 | Goat Anti-Human Tissue Factor Pathway Inhibitor, (C Terminus) Antibodies | Ray Biotech | 100 μg | 353€ | | Pub |
| ER-14-1625 | Goat Anti-Human EAT2 phospho (Y127), (internal region) Antibodies | Ray Biotech | 100 μg | 353€ | | Pub |
| ER-14-1626 | Goat Anti- Eat2A Eat2B (mouse), (C Terminus) Antibodies | Ray Biotech | 100 μg | 257€ | | Pub |
| ES1001 | Esophagus cancer tissue array for antibody screening, including TNM, clinical stage and pathology grade, 25 cases 100 cores | US Biomax | | 266€ | | Pub |
| ES1002 | Esophageal cancer tissue array for antibody screening, including TNM, clinical stage and pathology grade, 50 cases 100 cores | US Biomax | | 266€ | | Pub |
| FDA992 | FDA normal organ tissue array of human tissue, 67cases 100 cores | US Biomax | | 278€ | | Pub |
| FDA993 | FDA normal human organ tissue array, 67cases 100 cores, replaced by FDA995 | US Biomax | | 278€ | | Pub |
| G234 | EasyScript cDNA Synthesis Kit | ABM Goods | 100 Rxns Kit | 248.85€ | | Pub |
| G236 | EasyScript Plus cDNA Synthesis Kit | ABM Goods | 100 Rxns Kit | 515.55€ | | Pub |
| G237 | EasyScript Plus RT | ABM Goods | 1000U, 10U/ml | 479.85€ | | Pub |
| GAEDRS-0100 | Goat Anti Eastern Diamondback Rattlesnake Venom IgG (H&L), 100ml | Equitech | 100ml | 340.526€ | | Pub |
| GI101 | Multiple organ gastrointestinal (GI) tract cancer metastasis tissue array, 50 cases 100 cores | US Biomax | | 266€ | | Pub |
| GL1001 | Multiple brain cancer and normal adjacent tissue array, 100 cases 100 cores | US Biomax | | 266€ | | Pub |
| GL1002 | Brain tumor and normal tissue array, 50 cases 100 cores | US Biomax | | 266€ | | Pub |
| GL1003 | Brain tumor tissue array for antibody screening, 25 cases 100 cores | US Biomax | | 266€ | | Pub |
| HE1001 | Heart disease spectrum (heart tumor progression) tissue array, 50 cases 100 cores | US Biomax | | 266€ | | Pub |
| K-1020 | TopTM DNA Sequencing Kit Solution Type 0.2 ml thin wall 8 strip tubes | Bioneer | 100 reactions | 307€ | | Pub |
| K-2042 | AccuPower RT PreMix 0.5 ml thin wall tubes with attached cap 100 tubes | Bioneer | 50 ul | 259€ | | Pub |
| K-3032 | AccuPrep Genomic DNA Extraction Kit Whole human blood, lymphocytes, mammalian tissues, cultured cells | Bioneer | 100 extractions | 248€ | | Pub |
| K-3080 | Tissue RNA PrepMate™ | Bioneer | 100 extractions | 397€ | | Pub |
| K-3090 | AccuzolTM Total RNA Extraction Reagent Tissues, cultured cells, blood samples | Bioneer | 100 extractions | 300€ | | Pub |
| K-5053 | AccuPower HotStart PCR PreMix 0.5 ml thin wall tubes with attached cap 100 tubes | Bioneer | 50 ul | 214€ | | Pub |
| K1005-1 | Leptin ELISA Kit, Human A sandwich enzyme immunoassay using a sensitive polyclonal primary antibody quantitatively measures human leptin in serum, plasma, and tissue culture medium. Easily detect conc | B-Bridge | 1 kit | 389€ | | Pub |
| K869-1ML | StemBoost™ Reprogramming Cocktail Set I (1000X), Sterile Filtered | Biovision | 1 ml | 249€ | | Pub |
| K869-1set | StemBoost™ Reprogramming Cocktail Set I (1000X), Sterile-Filtered | Biovision | 5 x1 ml | 767€ | | Pub |
| K869-5ML | StemBoost™ Reprogramming Cocktail Set I (1000X), Sterile-Filtered | Biovision | 5 ml | 728€ | | Pub |
| K870-1ML | StemBoost™ Reprogramming Cocktail Set II (1000X), Sterile Filtered | Biovision | 1 ml | 249€ | | Pub |
| K870-1set | StemBoost™ Reprogramming Cocktail Set II (1000X), Sterile-Filtered | Biovision | 5 x 1 ml | 757€ | | Pub |
| K870-5ML | StemBoost™ Reprogramming Cocktail Set II (1000X), Sterile-Filtered | Biovision | 5 ml | 728€ | | Pub |
| K871-1ML | StemBoost™ YPAC Cocktail Set (1000X), Sterile-Filtered | Biovision | 1 ml | 269€ | | Pub |
| K871-1set | StemBoost™ YPAC Cocktail Set (1000X), Sterile-Filtered | Biovision | 5 x1 ml | 864€ | | Pub |
| K871-5ML | StemBoost™ YPAC Cocktail Set (1000X), Sterile-Filtered | Biovision | 5 ml | 815€ | | Pub |
| KA-7030 | Tissue Homogenization Set (Mixer, sticks, and tubes) | Bioneer | 1 | 231€ | | Pub |
| KD1001 | Kidney cancer tissue array for antibody screening, including TNM, clinical stage and pathology grade, 25 cases 100 cores | US Biomax | | 231€ | | Pub |
| KD1002 | Kidney cancer tissue array for antibody screening, including TNM, clinical stage and pathology grade, 50 cases 100 cores | US Biomax | | 231€ | | Pub |
| LC10010 | Small cell lung carcinoma tissue array, for antibody screening, including TNM and clinical stage, 50 cases 100 cores | US Biomax | | 231€ | | Pub |
| LC10010a | Lung carcinoma tissue array with normal lung tissue as control, including TNM and clinical stage, 50 cases 100 cores, replacing LC10010; ihc Anti-Actin confirmed | US Biomax | | 296€ | | Pub |
| LC10011 | Non small cell lung carcinoma (NSCLC) tissue array for antibody screening, including TNM, clinical stage and pathology grade, 50 cases 100 cores | US Biomax | | 231€ | | Pub |
| LC10012 | Lung non small cell cancer tissue array, with adjacent tissue and normal tissue, including TNM and pathology grade, 50 cases 100 cores, replacing LC1006 | US Biomax | | 266€ | | Pub |
| LC10013 | Lung adenocarcinoma tissue array with adjacent normal lung tissue, including TNM and pathology grade, 50 cases 100 cores, replacing LC1002 | US Biomax | | 266€ | | Pub |
| LC1002 | Lung adenocarcinoma (grade II III) tissue array with self matched adjacent normal tissue, and 4 non cancer normal lung tissue, 52 cases 100 cores, replaced by LC10013 | US Biomax | | 231€ | | Pub |
| LC1004 | Lung carcinoma (multi tissue combined panel) tissue array, 50 cases 100 cores | US Biomax | | 231€ | | Pub |
| LC1005 | Lung carcinoma progression tissue array, 77 cases 100 cores | US Biomax | | 266€ | | Pub |
| LC1006 | Non small cell lung carcinoma (NSCLC) tissue array with matched adjacent normal tissue as control, 56 cases 100 cores, with stage and grade data, replacing LC1001 | US Biomax | | 231€ | | Pub |
| LC1007 | Lung tuberculosis tissue array with normal tissue, 48 cases 100 cores | US Biomax | | 231€ | | Pub |
| LC1009 | Lung small cell carcinoma tissue array for antibody screening, including TNM, clinical stage and pathology grade, 25 cases 100 cores | US Biomax | | 231€ | | Pub |
| LV1002 | Liver cancer tissue array, including TNM, clinical stage and pathology grade, 50 cases 100 cores | US Biomax | | 231€ | | Pub |
| LV1003 | Liver cancer tissue array, with HBV infection information, including TNM and pathology grade, 50 cases 100 cores | US Biomax | | 314€ | | Pub |
| LY1001 | Diffuse large B cell lymphoma tissue array, 100 cases 100 cores | US Biomax | | 266€ | | Pub |
| LY1001a | Diffuse large-B cell lymphoma tissue array, 100 cases 100 cores, replacing LY1001; ihc Anti-Actin confirmed | US Biomax | | 296€ | | Pub |
| mAP-0136 | Rat monoclonal anti mouse Tissue inhibitor of metalloproteinases 1 (TIMP-1) Anti-Mouse antibodies | AngoiPro | 100.00 ug | 310€ | | Pub |
| MD-14-0847 | Mouse Anti-EBV Early Antigen Zeta Protein (BAM HI-Z) Antibodies | Ray Biotech | 100 | 452€ | | Pub |
| MD-14-0848 | Mouse Anti-EBV Early Antigen-R Homologue Bcl-2 Antibodies | Ray Biotech | 100 | 386€ | | Pub |
| ME1001 | Malignant melanoma, metastatic malignant melanoma and benign nevus tissue array, replaced by ME1003, 100 cases 100 cores | US Biomax | | 266€ | | Pub |
| ME1002 | Malignant melanoma and normal tissue array, 50 cases 100 cores | US Biomax | | 266€ | | Pub |
| ME1003 | Malignant melanoma, metastatic malignant melanoma and benign nevus tissue array, including TNM and clinical stage, 100 cases 100 cores, replaced by ME1004 | US Biomax | | 266€ | | Pub |
| ME1004 | Malignant melanoma, metastatic malignant melanoma and nevus tissue array, including TNM, 100 cases 100 cores, replacing ME1003 | US Biomax | | 314€ | | Pub |
| ME1004a | Malignant melanoma, metastatic malignant melanoma and nevus tissue array, including TNM and clinical stage, 100 cases 100 cores, replacing ME1004; ihc Anti-Actin confirmed | US Biomax | | 296€ | | Pub |
| MFMCE047045GWSP | MCE Gridded Membrane Filter, Individually package, White, Sterile, 0.45(μm), 47(mm),With Pad | Membrane solutions | 1000 pcs | 336€ | | Pub |
| MGLTB100 | Mini Glass Tubes for handheld readers (100 bag) | Bioassays | 100 tests x 2 | 60€ | | Pub |
| MO01011 | Mouse stomach tissue array, 100 cases 100 cores, 50 from different male, 50 from different female | US Biomax | | 160€ | | Pub |
| MO03011 | Mouse liver tissue array, 100 cases 100 cores, 50 male and 50 female | US Biomax | | 160€ | | Pub |
| MO04011 | Mouse lung tissue array, 100 cases 100 cores, 50 male and 50 female | US Biomax | | 160€ | | Pub |
| MO07011 | Mouse kidney tissue array, 100 cases 100 cores, 50 male and 50 female | US Biomax | | 160€ | | Pub |
| MO1001 | Mouse normal kidney tissue array, 100 cases 100 cores | US Biomax | | 266€ | | Pub |
| MO1002 | Mouse spleen tissue array, 100 cases 100 cores, 50 male and 50 female, replacing MO32011 | US Biomax | | 189€ | | Pub |
| MO17011 | Mouse brain tissue array, 100 cases 100 cores, 50 male and 50 female | US Biomax | | 160€ | | Pub |
| MO24011 | Mouse muscle tissue array, 100 cases 100 cores, 50 male and 50 female | US Biomax | | 160€ | | Pub |
| MO30011 | Mouse heart tissue array, 100 cases 100 cores, 50 male and 50 female | US Biomax | | 160€ | | Pub |
| MO32011 | Mouse spleen tissue array, 100 cases 100 cores, 50 male and 50 female, replaced by MO1002 | US Biomax | | 189€ | | Pub |
| NH1001 | Nasopharynx disease spectrum (nasopharynx cancer progression) tissue array, 49 cases 100 cores | US Biomax | | 266€ | | Pub |
| OR1001 | Tonsil disease spectrum (tonsil tumor progression) tissue array, 50 cases 100 cores | US Biomax | | 266€ | | Pub |
| OV1001 | Ovarian disease spectrum (ovarian cancer progression) tissue array, 100 cases 100 cores, replaced by OV1005 | US Biomax | | 231€ | | Pub |
| OV1002 | Ovarian cancer (multiple types) tissue array, 100 cases 100 cores | US Biomax | | 231€ | | Pub |
| OV1003 | Ovarian cancer tissue array for antibody screening, including TNM, clinical stage and pathology grade, 25 cases 100 cores | US Biomax | | 231€ | | Pub |
| OV1004 | Ovarian cancer tissue array for antibody screening, including TNM, clinical stage and pathology grade, 50 cases 100 cores | US Biomax | | 231€ | | Pub |
| OV1005 | Ovarian disease spectrum (ovarian cancer progression) tissue array, including TNM, clinical stage and pathology grade, 100 cases 100 cores, replacing OV1001 | US Biomax | | 266€ | | Pub |
| OV1005a | Ovary disease spectrum (ovarian cancer progression) tissue array, including TNM, clinical stage and pathology grade, 100 cases 100 cores, replacing OV1005; ihc Anti-Actin confirmed | US Biomax | | 267€ | | Pub |
| P-1003-2 | FitAmp General Tissue Section DNA Isolation Kit | EpigenTek | 100 samples | 522.9€ | | Pub |
| P-1003-2 |  FitAmp General Tissue Section DNA Isolation Kit (100 samples) | EpigenTek | | 522.9€ | | Pub |
| P-1009-2 | FitAmp Paraffin Tissue Section DNA Isolation Kit | EpigenTek | 100 samples | 474.6€ | | Pub |
| P-1009-2 |  FitAmp Paraffin Tissue Section DNA Isolation Kit (100 samples) | EpigenTek | | 474.6€ | | Pub |
| PA1001 | Multiple pancreatic cancer tissue array with unmatched normal adjacent tissues, with TNM data, 50 cases 100 cores | US Biomax | | 266€ | | Pub |
| PA1002 | Pancreas cancer tissue array for antibody screening, with normal tissue, including TNM and pathology grade, 50 cases 100 cores | US Biomax | | 266€ | | Pub |
| PA1003 | Pancreas cancer tissue array for antibody screening, including TNM and pathology grade, 25 cases 100 cores | US Biomax | | 314€ | | Pub |
| PP-207S | Plant DNA Preparation Kit, S pack Solution based genomic DNA purification from plant tissue | Jena Bioscience | 100preparations | 79€ | | Pub |
| PR1001 | Prostate cancer tissue array, including TNM and pathology grade, 25 cases 100 cores | US Biomax | | 266€ | | Pub |
| S-808-HS | Mouse Serum Sterile filtered | LeeBio | 100 ml | 0€ | | Pub |
| SBCU-0100 | Sterile filtered calf serum, 100ml | Equitech | 100 ml | 113.4€ | | Pub |
| SBSU-0100 | Sterile filtered bovine serum, 100ml | Equitech | 100 ml | 113.4€ | | Pub |
| SC-0100 | Sterile filtered chicken serum, 100ml | Equitech | 100 ml | 124.95€ | | Pub |
| SCA-0100 | Sterile filtered canine serum, 100ml | Equitech | 100 ml | 279.3€ | | Pub |
| SCM-0100 | Sterile filtered Cynomolgus monkey serum, 100ml | Equitech | 100 ml | 1945.65€ | | Pub |
| SD-0100 | Sterile filtered donkey serum, 100ml | Equitech | 100 ml | 131.25€ | | Pub |
| SE-0100 | Sterile filtered equine serum, 100ml | Equitech | 100 ml | 131.25€ | | Pub |
| SF-0100 | Sterile filtered feline serum, 100ml | Equitech | 100 ml | 458.85€ | | Pub |
| SFBA-0100 | Sterile filtered fetal bovine serum, 100ml | Equitech | 100 ml | 143.85€ | | Pub |
| SFBIU-0100 | Sterile filtered fetal bovine serum, low IgG,100ml | Equitech | 100 ml | 184.8€ | | Pub |
| SFBIU-0100HI | Sterile filtered fetal bovine serum, low IgG, 100ml, heat inactivated | Equitech | 100 ml | 187.95€ | | Pub |
| SFBM-0100 | Sterile filtered fetal bovine serum, 100ml | Equitech | 100 ml | 141.75€ | | Pub |
| SFBM-0100HI | Sterile filtered fetal bovine serum, 100ml, heat inactivated | Equitech | 100 ml | 143.85€ | | Pub |
| SFBMC-0100 | Sterile filtered fetal bovine serum, charcoal stripped, 100ml | Equitech | 100 ml | 229.95€ | | Pub |
| SFBMC-0100HI | Sterile filtered fetal bovine serum, charcoal stripped, 100ml, heat inactivated | Equitech | 100 ml | 233.1€ | | Pub |
| SFBMDY-0100 | Sterile filtered fetal bovine serum, dialyzed, 100ml | Equitech | 100 ml | 229.95€ | | Pub |
| SFBMDY-0100HI | Sterile filtered fetal bovine serum, dialyzed, 100ml, heat inactivated | Equitech | 100 ml | 233.1€ | | Pub |
| SFBU-0100 | Sterile filtered fetal bovine serum, 100ml | Equitech | 100 ml | 143.85€ | | Pub |
| SFBU-0100HI | Sterile filtered fetal bovine serum, 100ml, heat inactivated | Equitech | 100 ml | 147€ | | Pub |
| SFBUC-0100 | Sterile filtered fetal bovine serum, charcoal stripped, 100ml | Equitech | 100 ml | 257.25€ | | Pub |
| SFBUC-0100HI | Sterile filtered fetal bovine serum, charcoal stripped,100ml, heat inactivated | Equitech | 100 ml | 260.4€ | | Pub |
| SFBUDY-0100 | Sterile filtered fetal bovine serum, dialyzed, 100ml | Equitech | 100 ml | 257.25€ | | Pub |
| SG-0100 | Sterile filtered goat serum, 100ml | Equitech | 100 ml | 131.25€ | | Pub |
| SGP-0100 | Sterile filtered guinea pig serum, 100ml | Equitech | 100 ml | 273€ | | Pub |
| SHA-0100 | Sterile filtered hamster serum, 100ml | Equitech | 100 ml | 334.95€ | | Pub |
| SHS-0100 | Sterile filtered human serum off the clot, 100ml | Equitech | 100ml | 248.85€ | | Pub |
| SHSABC-0100 | Sterile filtered human AB serum off the clot, 100ml | Equitech | 100ml | 285.6€ | | Pub |
| SK803 | Skin basal cell cancer (BCC) and benign nevus tissue array, 52 cases 100 cores | US Biomax | | 231€ | | Pub |
| SM-0100 | Sterile filtered mouse serum, 100ml | Equitech | 100 ml | 217.35€ | | Pub |
| SNBU-0100 | Sterile filtered newborn calf serum, 100ml | Equitech | 100 ml | 118.65€ | | Pub |
| SO1001 | Peripheral nerve disease spectrum (peripheroneural cancer progression) tissue array, 50 cases 100 cores | US Biomax | | 266€ | | Pub |
| SP-0100 | Sterile filtered porcine serum, 100ml | Equitech | 100 ml | 137.55€ | | Pub |
| SP1001 | Spleen disease spectrum (splenic cancer progression) tissue array, 50 cases 100 cores | US Biomax | | 266€ | | Pub |
| SR-0100 | Sterile filtered rabbit serum, 100ml | Equitech | 100 ml | 137.55€ | | Pub |
| SRM-0100 | Sterile filtered Rhesus monkey serum, 100ml | Equitech | 100 ml | 1575€ | | Pub |
| SRT-0100 | Sterile filtered rat serum, 100ml | Equitech | 100 ml | 279.3€ | | Pub |
| SS-0100 | Sterile filtered sheep serum, 100ml | Equitech | 100 ml | 143.85€ | | Pub |
| ST1001 | Stomach disease spectrum (stomach cancer progression) tissue array, 100 cases 100 cores | US Biomax | | 266€ | | Pub |
| ST1003 | Stomach cancer tissue array for antibody screening, including TNM, clinical stage and pathology grade, 50 cases 100 cores | US Biomax | | 231€ | | Pub |
| ST1004 | Stomach adenocarcinoma with matched adjacent tissue array, including TNM and pathology grade, 55 cases 100 cores, replacing BC01114; ihc Anti-Actin confirmed | US Biomax | | 258€ | | Pub |
| UR1001 | Ureter and urethra disease spectrum tissue array, with stage, grade and TNM data, 50 cases 100 cores | US Biomax | | 199€ | | Pub |
| UT1001 | Endometrial cancer tissue array for antibody screening, including TNM, clinical stage and pathology grade, 25 cases 100 cores | US Biomax | | 266€ | | Pub |
| UT1002 | Endometrium cancer tissue array for antibody screening, including TNM and pathology grade, 50 cases 100 cores | US Biomax | | 266€ | | Pub |
| UV1001 | Vulval disease spectrum (vulva cancer progression) tissue array, 46 cases 100 cores | US Biomax | | 266€ | | Pub |
| VA1001 | Vermiform appendix disease spectrum (vermiform appendix tumor progression) tissue array, 50 cases 100 cores | US Biomax | | 266€ | | Pub |
| Y053062 | Anti CMV Immediately early antigen (p72) [clone C E4] | ABM Goods | 100 μg | 423€ | | Pub |
| Y061515 | Monoclonal Anti-Adenovirus 2 E1A (Adenovirus 2 early region 1) produced in mouse Antibody | ABM Goods | 100ug | 994.35€ | | Pub |
| Y061515 | Monoclonal Anti Adenovirus 2 E1A (Adenovirus 2 early region 1) produced in mouse | ABM Goods | 100ug | 1119.3€ | | Pub |
| YGF10 | UniversALL Tissue PCR Kit (100 reactions) | Yeastern Biotech | UniversALL Extract Buffer 1 ml x 5 Primer U18S-F (10 ìM) 20 ìl Primer U18S-R (10 ìM) 20 ìl Primer P1 | 399.85€ | | Pub |
| 15-1100 | Cell Strainers 100μm Cell Strainer, Sterile, nylon mesh, PP frame, Green | Biologix | 5 x 50 Pieces/case | 412€ | | Pub |
| AAA999 | Super Block | Scy tek | 1000 ml | 119€ | | Pub |
| AAD999 | Acetic Acid Solution (0.5%) | Scy tek | 1000 ml | 88€ | | Pub |
| AAE999 | Acetic Acid Solution (1%) | Scy tek | 1000 ml | 94€ | | Pub |
| AAG999 | Acetic Acid Solution (3%) | Scy tek | 1000 ml | 94€ | | Pub |
| AAK999 | Acetic Acid Solution (12%) | Scy tek | 1000 ml | 121€ | | Pub |
| ABB999 | Normal Antibody Diluent (Phosphate Buffered) | Scy tek | 1000 ml | 112€ | | Pub |
| ABC999 | SensiTek Anti-Mouse | Scy tek | 1000 ml | 589€ | | Pub |
| ABD999 | Normal Antibody Diluent (Phosphate Buffered) without BSA | Scy tek | 1000 ml | 106€ | | Pub |
| ABE999 | SensiTek Anti-Rabbit | Scy tek | 1000 ml | 589€ | | Pub |
| ABF999 | SensiTek Anti-Polyvalent | Scy tek | 1000 ml | 714€ | | Pub |
| ABG999 | SensiTek Horseradish Peroxidase | Scy tek | 1000 ml | 589€ | | Pub |
| ABH999 | SensiTek Alkaline Phosphatase | Scy tek | 1000 ml | 683€ | | Pub |
| ABI999 | Enzyme Label Diluent | Scy tek | 1000 ml | 112€ | | Pub |
| ABJ999 | UltraTek Anti-Mouse | Scy tek | 1000 ml | 770€ | | Pub |
| ABK999 | UltraTek Anti-Rabbit | Scy tek | 1000 ml | 770€ | | Pub |
| ABL999 | UltraTek Horseradish Peroxidase | Scy tek | 1000 ml | 770€ | | Pub |
| ABM999 | UltraTek Alkaline Phosphatase | Scy tek | 1000 ml | 1739€ | | Pub |
| ABN999 | UltraTek Anti-Polyvalent | Scy tek | 1000 ml | 1663€ | | Pub |
| ABO999 | Aniline Blue - Orange G | Scy tek | 1000 ml | 120€ | | Pub |
| ABP999 | Aniline Blue Solution | Scy tek | 1000 ml | 120€ | | Pub |
| ABT999 | ABTS (2,2'-Azinodi 3-Ethyl Benzthiazoline Sulfonic) | Scy tek | 1000 ml | 178€ | | Pub |
| ABZ999 | CRF Anti-Polyvalent HRP Polymer | Scy tek | 1000 ml | 7696€ | | Pub |
| ACA999 | Peroxide Block | Scy tek | 1000 ml | 113€ | | Pub |
| ACC999 | DAB Substrate Buffer | Scy tek | 1000 ml | 76€ | | Pub |
| ACL999 | BCIP INT Solution | Scy tek | 1000 ml | 270€ | | Pub |
| ACN999 | BCIP NBT Solution | Scy tek | 1000 ml | 213€ | | Pub |
| ACU999 | DAB Substrate (High Contrast) | Scy tek | 1000 ml | 108€ | | Pub |
| ADA999 | Peroxide Block for Image Analysis | Scy tek | 1000 ml | 139€ | | Pub |
| ADT999 | Normal Antibody Diluent (Tris Buffered) | Scy tek | 1000 ml | 112€ | | Pub |
| AFI999 | Acid Fuchsin Solution (0.5%) | Scy tek | 1000 ml | 123€ | | Pub |
| AFO999 | Acid Fuchsin (Aqueous) | Scy tek | 1000 ml | 131€ | | Pub |
| AFQ999 | Aldehyde Fuchsin | Scy tek | 1000 ml | 120€ | | Pub |
| AMT999 | Aqueous Mount | Scy tek | 1000 ml | 242€ | | Pub |
| ANA999 | Alcian Blue Solution, pH 1.0 | Scy tek | 1000 ml | 211€ | | Pub |
| ANC999 | Alcian Blue Solution, pH 2.5 | Scy tek | 1000 ml | 211€ | | Pub |
| ANY999 | Alcian Yellow Solution | Scy tek | 1000 ml | 129€ | | Pub |
| APD999 | Alk-Phos Stabilizing Diluent | Scy tek | 1000 ml | 147€ | | Pub |
| APE999 | Alkaline Phosphatase Enhancer | Scy tek | 1000 ml | 117€ | | Pub |
| APG999 | Primary Antibody Diluent (Phosphate, Green) | Scy tek | 1000 ml | 112€ | | Pub |
| ATG999 | Primary Antibody Diluent (Tris, Green) | Scy tek | 1000 ml | 112€ | | Pub |
| BAB100-0100 | Borellia grade BSA powder, Borellia and Leptospira growth tested, 100gm | Equitech | | 301.68€ | | Pub |
| BAB999 | Boric Acid - Borate Buffer, pH 8.2 | Scy tek | 1000 ml | 106€ | | Pub |
| BAC61-0100 | Fraction V Microbiological grade BSA powder, 100gm | Equitech | | 250.2€ | | Pub |
| BAC62-0100 | Fraction V BSA powder, pH 7, 100gm | Equitech | | 278.8€ | | Pub |
| BAC63-0100 | Fraction V BSA powder, pH 5.2, 100gm | Equitech | | 258€ | | Pub |
| BAC65-0100 | Fraction V BSA powder, protease free, 100gm | Equitech | | 307.4€ | | Pub |
| BAH-0100 | Low endotoxin heat shock BSA powder, 100gm | Equitech | | 258€ | | Pub |
| BAH62-0100 | Standard grade heat shock BSA powder, pH 7, 100gm | Equitech | | 180€ | | Pub |
| BAH63-0100 | Standard grade heat shock BSA powder, pH 5.2, 100gm | Equitech | | 180€ | | Pub |
| BAH64-0100 | Reagent grade heat shock BSA powder, 100gm | Equitech | | 258€ | | Pub |
| BAH65-0100 | Protease free heat shock BSA powder, 100gm | Equitech | | 232€ | | Pub |
| BAH66-0100 | Fatty acid free heat shock BSA powder, 100gm | Equitech | | 336€ | | Pub |
| BAH67-0100 | Protease, DNASE free heat shock BSA powder, 100gm | Equitech | | 310€ | | Pub |
| BBN999 | Bismark Brown Y Solution | Scy tek | 1000 ml | 147€ | | Pub |
| BCA999 | Brilliant Cresyl Blue (0.3%, Alcoholic) | Scy tek | 1000 ml | 139€ | | Pub |
| BCS999 | Brilliant Cresyl Blue (1.5% in 0.85% Saline) | Scy tek | 1000 ml | 147€ | | Pub |
| BCSU-0100 | Non-sterile calf serum, 100ml | Equitech | | 62.48€ | | Pub |
| BNF999 | Bouin's Fluid | Scy tek | 1000 ml | 92€ | | Pub |
| BOR999 | Borax Solution | Scy tek | 1000 ml | 160€ | | Pub |
| BPUC-0100 | Non-sterile bovine plasma with sodium citrate, 100ml | Equitech | | 64.04€ | | Pub |
| BRJ999 | BRIJ 35 Solution (25-30%) | Scy tek | 1000 ml | 126€ | | Pub |
| BRT999 | Bluing Reagent | Scy tek | 1000 ml | 84€ | | Pub |
| BSR999 | Biebrich Scarlet (0.2%) | Scy tek | 1000 ml | 106€ | | Pub |
| BST999 | Biebrich Scarlet Solution (1.0%) | Scy tek | 1000 ml | 106€ | | Pub |
| BSU-0100 | Non-sterile bovine serum, 100ml | Equitech | | 62.48€ | | Pub |
| BSU999 | Biebrich Scarlet Acid Fuchsin Solution | Scy tek | 1000 ml | 106€ | | Pub |
| CAS-0100 | Non-sterile canine serum, 100ml | Equitech | | 174.8€ | | Pub |
| CASA-0100 | Canine serum albumin lyophilized powder, 100mg | Equitech | | 570€ | | Pub |
| CBB999 | Citrate Buffer (10x) pH 6.0 | Scy tek | 1000 ml | 92€ | | Pub |
| CEA999 | Cresyl Echt Violet Solution (0.1%) | Scy tek | 1000 ml | 115€ | | Pub |
| CEB999 | Cresyl Echt Violet (1.0%, Aqueous) | Scy tek | 1000 ml | 112€ | | Pub |
| CFK999 | Carbol Fuchsin (Kinyoun's) | Scy tek | 1000 ml | 171€ | | Pub |
| CFX999 | Carbol Fuchsin Counterstain | Scy tek | 1000 ml | 142€ | | Pub |
| CFZ999 | Carbol Fuchsin Solution | Scy tek | 1000 ml | 152€ | | Pub |
| CGV999 | Carbol Gentian Violet | Scy tek | 1000 ml | 128€ | | Pub |
| CHR999 | Chromic Acid Solution | Scy tek | 1000 ml | 195€ | | Pub |
| CIS999 | Colloidal Iron Stock Solution | Scy tek | 1000 ml | 185€ | | Pub |
| CMPC-0100 | Non-sterile Cynomolgus monkey plasma with sodium citrate, 100ml | Equitech | | 1454€ | | Pub |
| CMPE-0100 | Non-sterile Cynomolgus monkey plasma with EDTA, 100ml | Equitech | | 1454€ | | Pub |
| CMPH-0100 | Non-sterile Cynomolgus monkey plasma with heparin, 100ml | Equitech | | 1454€ | | Pub |
| CMS-0100 | Non-sterile Cynomolgus monkey serum, 100ml | Equitech | | 1298€ | | Pub |
| CPL999 | Citrate Plus (10x) HIER Solution | Scy tek | 1000 ml | 178€ | | Pub |
| CPP999 | CRF Anti-Polyvalent HRP Polymer (DAB) Lab Pack | Scy tek | 10000 Slides | 8051€ | | Pub |
| CRA999 | Congo Red Solution | Scy tek | 1000 ml | 128€ | | Pub |
| CSB999 | Coating Stabilizer | Scy tek | 1000 ml | 139€ | | Pub |
| CTM999 | CytoPort, Cytology Transport Media | Scy tek | 1000 ml | 82€ | | Pub |
| CVA999 | Crystal Violet Solution | Scy tek | 1000 ml | 128€ | | Pub |
| DBC999 | DAB One-Component Solution (3,3'-Diaminobenzidine) | Scy tek | 1000 ml | 998€ | | Pub |
| DDH999 | Water, Deionized Distilled | Scy tek | 1000 ml | 58€ | | Pub |
| DES999 | DAB (Post) Enhancing Solution | Scy tek | 1000 ml | 100€ | | Pub |
| DS7999 | Differentiating Solution (Acid Alcohol) - 70% | Scy tek | 1000 ml | 100€ | | Pub |
| DSN999 | Differentiating Solution (Acid Alcohol) - 95% | Scy tek | 1000 ml | 100€ | | Pub |
| EAP999 | EconoTek Alk-Phos Anti-Polyvalent Lab Pack | Scy tek | 10000 Slides | 1021€ | | Pub |
| EBB999 | ELISA Binding Buffer | Scy tek | 1000 ml | 98€ | | Pub |
| EEH-1 | Easy ELISA HRP Kit | Scy tek | 1 kit(s) | 195€ | | Pub |
| EHP999 | EconoTek HRP Anti-Polyvalent Lab Pack | Scy tek | 10000 Slides | 892€ | | Pub |
| EPN999 | Eosin-Phloxine Solution | Scy tek | 1000 ml | 82€ | | Pub |
| ESD999 | ELISA Sample Diluent | Scy tek | 1000 ml | 139€ | | Pub |
| EYA999 | Eosin Y Solution (Alcoholic) | Scy tek | 1000 ml | 84€ | | Pub |
| EYQ999 | Eosin Y Solution (Aqueous) | Scy tek | 1000 ml | 93€ | | Pub |
| EZB999 | EZ Block | Scy tek | 1000 ml | 152€ | | Pub |
| FGN999 | Fast Green Solution | Scy tek | 1000 ml | 112€ | | Pub |
| FMH999 | FluoreGuard Mounting Medium (Hard Set) | Scy tek | 1000 ml | 443€ | | Pub |
| FMM999 | FluoreGuard Mounting Medium | Scy tek | 1000 ml | 443€ | | Pub |
| FRL999 | Formalin Solution (20%) | Scy tek | 1000 ml | 93€ | | Pub |
| FRN999 | Formalin (10% Neutral Buffered) | Scy tek | 1000 ml | 79€ | | Pub |
| GCB999 | Gold Chloride Solution (0.2%) | Scy tek | 1000 ml | 720€ | | Pub |
| GCS999 | Gold Chloride Solution (0.1%) | Scy tek | 1000 ml | 519€ | | Pub |
| GDS999 | Gram's Decolorizer Solution | Scy tek | 1000 ml | 117€ | | Pub |
| GGS999 | Giemsa Stock Solution | Scy tek | 1000 ml | 124€ | | Pub |
| GMM999 | Buffered Glycerol Mounting Media | Scy tek | 1000 ml | 222€ | | Pub |
| GVS999 | Gentian Violet Solution | Scy tek | 1000 ml | 156€ | | Pub |
| HAB999 | HRP Stabilizing Diluent (Phosphate Buffered) without BSA | Scy tek | 1000 ml | 139€ | | Pub |
| HAQ999 | Hematoxylin, For Automation | Scy tek | 1000 ml | 80€ | | Pub |
| HFV999 | Hollande's Fixative | Scy tek | 1000 ml | 100€ | | Pub |
| HPS999 | H. Pylori Rapid Stain (1-Step) | Scy tek | 1000 ml | 117€ | | Pub |
| HQB999 | Hydrochloric Acid Solution (2%) | Scy tek | 1000 ml | 85€ | | Pub |
| HSB999 | HRP Stabilizing Diluent (Phosphate Buffered) | Scy tek | 1000 ml | 139€ | | Pub |
| HSM999 | HRP Stabilizing Diluent (MOPS Buffered) | Scy tek | 1000 ml | 139€ | | Pub |
| HWI-2 | Hematoxylin, Weigert's Iron Kit | Scy tek | 1000 ml | 140€ | | Pub |
| JSS999 | Jenner Stock Solution | Scy tek | 1000 ml | 120€ | | Pub |
| LFB999 | Luxol Fast Blue Solution | Scy tek | 1000 ml | 139€ | | Pub |
| LGA999 | Light Green Solution | Scy tek | 1000 ml | 124€ | | Pub |
| LGB999 | Light Green S.F. Yellowish Solution | Scy tek | 1000 ml | 128€ | | Pub |
| LGD999 | Light Green Solution (0.1%) | Scy tek | 1000 ml | 124€ | | Pub |
| MAY999 | May-Grunwald Stock Solution | Scy tek | 1000 ml | 124€ | | Pub |
| MBS999 | Methylene Blue Solution (Loeffler's) | Scy tek | 1000 ml | 139€ | | Pub |
| MET999 | Methenamine Solution | Scy tek | 1000 ml | 119€ | | Pub |
| MGS999 | Methyl Green (Purified) Solution | Scy tek | 1000 ml | 171€ | | Pub |
| MSS999 | Miller's Stain Solution | Scy tek | 1000 ml | 152€ | | Pub |
| MTF999 | Michel's Transport Fluid (Zeus Medium) | Scy tek | 1000 ml | 115€ | | Pub |
| MTH999 | Methanol | Scy tek | 1000 ml | 134€ | | Pub |
| MTW999 | Michel's Transport Wash Buffer | Scy tek | 1000 ml | 115€ | | Pub |
| MYQ999 | Metanil Yellow (Aqueous Solution) | Scy tek | 1000 ml | 115€ | | Pub |
| NFS999 | Nuclear Fast Red Solution (Enhanced Stability) | Scy tek | 1000 ml | 162€ | | Pub |
| NPB999 | Naphthol Phosphate Buffer | Scy tek | 1000 ml | 202€ | | Pub |
| npc999 | Naphthol Phosphate Buffer (High Contrast) | Scy tek | 1000 ml | 197€ | | Pub |
| NYS999 | Naphthol Yellow S Solution | Scy tek | 1000 ml | 207€ | | Pub |
| OAA999 | Orcein Solution | Scy tek | 1000 ml | 131€ | | Pub |
| OGA999 | OG-6 Solution | Scy tek | 1000 ml | 82€ | | Pub |
| ORG999 | Oil Red O Solution | Scy tek | 1000 ml | 187€ | | Pub |
| PAB999 | Picric Acid - Acetone Solution (0.1%) | Scy tek | 1000 ml | 103€ | | Pub |
| PAQ999 | Periodic Acid Solution | Scy tek | 1000 ml | 139€ | | Pub |
| PBD999 | Phosphate Buffered Saline (10x) pH 7.4 | Scy tek | 1000 ml | 92€ | | Pub |
| PBE999 | Phosphate Buffered Saline + Tween 20 (10x) pH 7.4 | Scy tek | 1000 ml | 92€ | | Pub |
| PBK999 | Pro-Block | Scy tek | 1000 ml | 112€ | | Pub |
| PBM999 | Phosphate Buffer Solution, pH 6.8 | Scy tek | 1000 ml | 80€ | | Pub |
| PBS999 | Phosphate Buffered Saline (25x) pH 7.6 | Scy tek | 1000 ml | 76€ | | Pub |
| PBT999 | Phosphate Buffered Saline + Tween 20 (20x) pH 7.6 | Scy tek | 1000 ml | 76€ | | Pub |
| PFB999 | Potassium Ferrocyanide Solution | Scy tek | 1000 ml | 101€ | | Pub |
| PFD999 | Potassium Ferrocyanide Solution (3%) | Scy tek | 1000 ml | 130€ | | Pub |
| PHC999 | Potassium Hydroxide Solution (10%) | Scy tek | 1000 ml | 117€ | | Pub |
| PMS999 | Potassium Metabisulfite Solution (3%) | Scy tek | 1000 ml | 129€ | | Pub |
| PPA999 | Phosphomolybdic Phosphotungstic Acid Solution | Scy tek | 1000 ml | 130€ | | Pub |
| PPD999 | Potassium Permanganate Solution | Scy tek | 1000 ml | 130€ | | Pub |
| PQA999 | Phosphomolybdic Acid Solution (0.2%) | Scy tek | 1000 ml | 82€ | | Pub |
| RLP999 | Retrieval HRP Anti-Polyvalent Lab Pack | Scy tek | 10000 Slides | 2085€ | | Pub |
| SAB999 | Acetate Buffer Solution, pH 8.0 | Scy tek | 1000 ml | 92€ | | Pub |
| SAM999 | SensiTek Alk-Phos Anti-Mouse Lab Pack | Scy tek | 10000 Slides | 1166€ | | Pub |
| SAP999 | SensiTek Alk-Phos Anti-Polyvalent Lab Pack | Scy tek | 10000 Slides | 1297€ | | Pub |
| SAQ999 | Sulfuric Acid Solution (1N) | Scy tek | 1000 ml | 71€ | | Pub |
| SAR999 | SensiTek Alk-Phos Anti-Rabbit Lab Pack | Scy tek | 10000 Slides | 1166€ | | Pub |
| SBC999 | Sodium Bisulfite Solution | Scy tek | 1000 ml | 103€ | | Pub |
| SG-0500 | Sterile filtered goat serum, 0.2 micron, 500ml | Equitech | | 112€ | | Pub |
| SG-0500HI | Sterile filtered goat serum, 0.2 micron, 500ml, heat inactivated | Equitech | | 118€ | | Pub |
| SHM999 | SensiTek HRP Anti-Mouse Lab Pack | Scy tek | 10000 Slides | 1076€ | | Pub |
| SHP999 | SensiTek HRP Anti-Polyvalent Lab Pack | Scy tek | 10000 Slides | 1207€ | | Pub |
| SHR999 | SensiTek HRP Anti-Rabbit Lab Pack | Scy tek | 10000 Slides | 1076€ | | Pub |
| SM-3000HI | Sterile filtered mouse serum, 0.2 micron, 3L, heat inactivated | Equitech | | 1747.28€ | | Pub |
| SME999 | Sodium Metabisulfite Solution (5%) | Scy tek | 1000 ml | 111€ | | Pub |
| SMG999 | Mucicarmine Solution (Southgate's) | Scy tek | 1000 ml | 274€ | | Pub |
| SOH999 | Safranin O | Scy tek | 1000 ml | 115€ | | Pub |
| SRF999 | Schiff's Solution | Scy tek | 1000 ml | 133€ | | Pub |
| SSE999 | SpiroPrep | Scy tek | 1000 ml | 147€ | | Pub |
| TBD999 | Tris Buffered Saline (10x) pH 7.5 | Scy tek | 1000 ml | 92€ | | Pub |
| TBE999 | Tris Buffered Saline + Tween 20 (10x) pH 7.5 | Scy tek | 1000 ml | 92€ | | Pub |
| TBS999 | Tris Buffered Saline (25x) pH 7.4 | Scy tek | 1000 ml | 92€ | | Pub |
| TBT999 | Tris Buffered Saline + Tween 20 (20x) pH 7.4 | Scy tek | 1000 ml | 92€ | | Pub |
| TES999 | Tris-EDTA HIER Solution (10x) pH 9.0 | Scy tek | 1000 ml | 120€ | | Pub |
| TGB999 | Trichrome Stain (Blue) | Scy tek | 1000 ml | 128€ | | Pub |
| TGG999 | Trichrome Stain Solution (Green) | Scy tek | 1000 ml | 128€ | | Pub |
| TM1999 | TMB Soluble Reagent (Standard Sensitivity) | Scy tek | 1000 ml | 147€ | | Pub |
| TM3999 | TMB Precipitating (Standard Sensitivity) | Scy tek | 1000 ml | 171€ | | Pub |
| TM4999 | TMB Soluble Reagent (High Sensitivity) | Scy tek | 1000 ml | 162€ | | Pub |
| TM5999 | TMB Precipitating (High Sensitivity) | Scy tek | 1000 ml | 180€ | | Pub |
| TMA999 | TMB Soluble Reagent (Aqueous) | Scy tek | 1000 ml | 195€ | | Pub |
| TMP999 | TMB Precipitating Reagent (For Membranes) | Scy tek | 1000 ml | 172€ | | Pub |
| TQF999 | Toludine Blue Solution | Scy tek | 1000 ml | 162€ | | Pub |
| TSB999 | TMB Stop Buffer | Scy tek | 1000 ml | 76€ | | Pub |
| TWN999 | Tween 20 | Scy tek | 1000 ml | 86€ | | Pub |
| TZQ999 | Tartrazine Solution | Scy tek | 1000 ml | 115€ | | Pub |
| UAM999 | UltraTek Alk-Phos Anti-Mouse Lab Pack | Scy tek | 10000 Slides | 2159€ | | Pub |
| UAP999 | UltraTek Alk-Phos Anti-Polyvalent Lab Pack | Scy tek | 10000 Slides | 3138€ | | Pub |
| UAR999 | UltraTek Alk-Phos Anti-Rabbit Lab Pack | Scy tek | 10000 Slides | 2159€ | | Pub |
| UHM999 | UltraTek HRP Anti-Mouse Lab Pack | Scy tek | 10000 Slides | 1436€ | | Pub |
| UHP999 | UltraTek HRP Anti-Polyvalent Lab Pack | Scy tek | 10000 Slides | 2008€ | | Pub |
| UHR999 | UltraTek HRP Anti-Rabbit Lab Pack | Scy tek | 10000 Slides | 1436€ | | Pub |
| VGS999 | Van Gieson's Solution | Scy tek | 1000 ml | 115€ | | Pub |
| WGS999 | Wright-Giemsa Solution | Scy tek | 1000 ml | 98€ | | Pub |
| WSC999 | Wash Solution Concentrate (50X) | Scy tek | 1000 ml | 133€ | | Pub |
| XPO999 | Xylene - Peanut Oil Solution | Scy tek | 1000 ml | 121€ | | Pub |
| ZCS999 | Zinc Chloride Solution (10%) | Scy tek | 1000 ml | 138€ | | Pub |
| ZFN999 | Zinc Formalin Solution | Scy tek | 1000 ml | 97€ | | Pub |
| 001-01 | ACTH (Human) 100ug | Phoenix Peptide | 100 µg | 149€ | | Pub |
| 00173-V | Recombinant Viral Antigens HIV-1 HIV-2, HIV-2 gp32 recombinant antigen. . | Virogen | 100ug/vial | 216€ | | Pub |
| 00174-V | Recombinant Viral antigens, HIV-1 HIV-2: HIV-1 p24 recombinant antigen. | Virogen | 100ug/vial | 206€ | | Pub |
| 00205-V | Recombinant Viral Antigens HTLV, HTLV-1 virus mosaic recombinant antigen a.a. 374-400 190-207. | Virogen | 100ug/vial | 216€ | | Pub |
| 00206-V | Toxoplasma gondii MIC 3 recombinant antigen | Virogen | 100ug/vial | 225€ | | Pub |
| 00900-V | Allergens, Phospholipase A2 P00630 Bee Venom Recombinant Protein | Virogen | 100ug/vial | 216€ | | Pub |
| 015-22031 | Anti AGO2 Human, Monoclonal Antibody | B-Bridge | 100ul | 956.676€ | | Pub |
| 015-22031 | Anti AGO2 Human, Monoclonal Antibody Antibodies | B-Bridge | 100ul | 858€ | | Pub |
| 017-23451 | Anti PIWIL1, Monoclonal Antibody (2C12) Antibodies | B-Bridge | 100ul | 560.36€ | | Pub |
| 018-22021 | Anti AGO2 Mouse, Monoclonal Antibody | B-Bridge | 100ul | 956.676€ | | Pub |
| 018-22021 | Anti AGO2 Mouse, Monoclonal Antibody Antibodies | B-Bridge | 100ul | 858€ | | Pub |
| 02-060 | RNase H (E. coli), recombinant (100 units ìg) | B-Bridge | 1000 units | 136.5€ | | Pub |
| 02-060 | RNase H (E. coli), recombinant (100 units ìg) RNase H (E. coli), recombinant (100 units ìg) | B-Bridge | 1000 units | 100.8€ | | Pub |
| 02-060 | RNase H (E. coli), recombinant (100 units μg) | B-Bridge | 1000 units | 154.875€ | | Pub |
| 02-060-5 | RNase H (E. coli), recombinant (100 units ìg) | B-Bridge | 5 X 1000 U | 353.85€ | | Pub |
| 02-060-5 | RNase H (E. coli), recombinant (100 units ìg) RNase H (E. coli), recombinant (100 units ìg) | B-Bridge | 5 X 1000 U | 353.85€ | | Pub |
| 02-060-5 | RNase H (E. coli), recombinant (100 units μg) | B-Bridge | 5 X 1000 U | 410.812€ | | Pub |
| 02001-500 | AccuRuller 100bp DNA Ladders 50μg 500μl (>150 loadings) | Maestro | | 115.6€ | | Pub |
| 02002-500 | AccuRuller 100bp Plus DNA Ladders 50μg 500μl (>150 loadings) | Maestro | | 115.6€ | | Pub |
| 024-15071 | Bone Morphogenetic Protein 13 (BMP 13), Human, recombinant Source Human bone morphogenetic protein 13 cDNA expressed in E.coli Appearance Lyophilized form with no additives (Sterile filtered) Molecul | B-Bridge | 10ìg | 520.8€ | | Pub |
| 027-A | Viral antibodies, anti-Rotavirus p42 IgG2a (monoclonal) Produced against purified bovine rotavirus virus. | Virogen | 100ug/vial | 216€ | | Pub |
| 0304 | I27O™ AFM Reference Protein, 100 ug | Athena | 100ìg | 354€ | | Pub |
| 035-94 | Insulin 1 (Rat), synthetic 100ug | Phoenix Peptide | 100 µg | 501.889€ | | Pub |
| 048-38 | Neuropeptide SF (NPSF)(Mouse) 100ug | Phoenix Peptide | 100 µg | 235€ | | Pub |
| 05-002 | HIV 1 Reverse transcriptase | B-Bridge | 1000 units | 666.75€ | | Pub |
| 05-002 | HIV 1 Reverse transcriptase HIV 1 Reverse transcriptase | B-Bridge | 1000 units | 605.85€ | | Pub |
| 065-A | Signal Transduction Antibodies, anti-CD45 RA IgG2 monoclonal antibody, Clone MYG13 | Virogen | 100ug/vial | 216€ | | Pub |
| 066-A | Signal Transduction Antibodies, anti-CD3 monoclonal antibody, Clone BD53-12 | Virogen | 100ug/vial | 216€ | | Pub |
| 073-04931 | Growth Differentiation Factor 11, Human, recombinant (GDF 11 BMP 11) Source Human GDF 11cDNA expressed in E.coli Appearance Lyophilized form with no additives (Sterile filtered) Molecularweight 2 | B-Bridge | 20 ug | 520.8€ | | Pub |
| 079-A | Signal Transduction Antibodies, anti-p53, clone BP53-12, Clone IPO-38 | Virogen | 100ug/vial | 216€ | | Pub |
| 0801027 | CELLKINES MACROPHAGE COLONY STIMULATING FACTOR rM CSF 100000 | Zeptometrix | 1 | 0€ | | Pub |
| 0801027 | MACROPHAGE COLONY STIMULATING FACTOR rM CSF 100000 | Zeptometrix | | 0€ | | Pub |
| 0801030 | CELLKINES MACROPHAGE COLONY STIMULATING FACTOR rM CSF 10000U | Zeptometrix | 1 | 0€ | | Pub |
| 0801030 | MACROPHAGE COLONY STIMULATING FACTOR rM CSF 10000U | Zeptometrix | | 0€ | | Pub |
| 0801101 | CELLKINES PLATELET DERIVED GROWTH FACTOR (PDGF) 100UG | Zeptometrix | 1 | 0€ | | Pub |
| 0802001 | CELLKINES INTERLEUKIN 2 (rIL 2) 100UG | Zeptometrix | 1 | 0€ | | Pub |
| 10-174 | 0.2ml Thin Wall PCR Tubes | Genesee | | 117€ | | Pub |
| 100-26 | Human Epidermal Growth Factor EGF | Shenandoah Biotechnology, Inc. | 100ug | 113.4€ | | Pub |
| 100-40 | Human Growth Hormone Growth Hormone | Shenandoah Biotechnology, Inc. | 100ug | 113.4€ | | Pub |
| 100-60 | Human Connective Tissue Growth Factor CTGF | Shenandoah Biotechnology, Inc. | 5ug | 113.4€ | | Pub |
| 1001 | 1001 | chemotra | 1g | 0€ | | Pub |
| 1001-1000 | Annexin V FITC Reagent | Biovision | 1000 assays | 945.5€ | | Pub |
| 1001-1000 | Annexin V FITC Reagent1000 assays | Biovision | 1000 assays | 891€ | | Pub |
| 1002-1000 | Annexin V Cy3 Reagent | Biovision | 1000 assays | 945.5€ | | Pub |
| 1002-1000 | Annexin V Cy3 Reagent1000 assays | Biovision | 1000 assays | 891€ | | Pub |
| 1004-1000 | Annexin V EGFP Reagent | Biovision | 1000 assays | 945.5€ | | Pub |
| 1004-1000 | Annexin V EGFP Reagent1000 assays | Biovision | 1000 assays | 891€ | | Pub |
| 10058 | 2 ,7 -DICHLORODIHYDROFLUORESCEIN DIACETA | Biotium | 100MG | 114€ | | Pub |
| 1007-1000 | Caspase-3 Substrate DEVD-AFC; Appearance Liquid | Biovision | 1000 assays | 614.25€ | | Pub |
| 1007-1000 | Caspase 3 Substrate DEVD AFC | Biovision | 1000 assays | 613.305€ | | Pub |
| 1007-1000 | Caspase 3 Substrate DEVD AFC1000 assays | Biovision | 1000 assays | 541€ | | Pub |
| 1008-1000 | Caspase-3 Substrate DEVD-pNA; Appearance Liquid | Biovision | 1000 assays | 614.25€ | | Pub |
| 1008-1000 | Caspase 3 Substrate DEVD pNA | Biovision | 1000 assays | 613.305€ | | Pub |
| 1008-1000 | Caspase 3 Substrate DEVD pNA1000 assays | Biovision | 1000 assays | 541€ | | Pub |
| 10101 | Petri Dish, 100x20mm,PS, Sterile, external grip, 10 200 case | SPL | x 5 | 276€ | | Pub |
| 1013-1000 | Annexin V Cy5 Reagent | Biovision | 1000 assays | 945.5€ | | Pub |
| 1013-1000 | Annexin V Cy5 Reagent1000 assays | Biovision | 1000 assays | 937€ | | Pub |
| 1014-1000 | Annexin V PE Reagent | Biovision | 1000 assays | 945.5€ | | Pub |
| 1014-1000 | Annexin V PE Reagent1000 assays | Biovision | 1000 assays | 937€ | | Pub |
| 1015-1000 | Annexin V PE Cy5 Reagent | Biovision | 1000 assays | 945.5€ | | Pub |
| 1015-1000 | Annexin V PE Cy5 Reagent1000 assays | Biovision | 1000 assays | 984€ | | Pub |
| 1062-1000 | Caspase-8 Substrate IETD-AFC; Appearance Liquid | Biovision | 1000 assays | 614.25€ | | Pub |
| 1062-1000 | Caspase 8 Substrate IETD AFC | Biovision | 1000 assays | 613.305€ | | Pub |
| 1062-1000 | Caspase 8 Substrate IETD AFC1000 assays | Biovision | 1000 assays | 514.08€ | | Pub |
| 1063-1000 | Caspase-8 Substrate IETD-pNA; Appearance Liquid | Biovision | 1000 assays | 614.25€ | | Pub |
| 1063-1000 | Caspase 8 Substrate IETD pNA | Biovision | 1000 assays | 613.305€ | | Pub |
| 1063-1000 | Caspase 8 Substrate IETD pNA1000 assays | Biovision | 1000 assays | 514.08€ | | Pub |
| 1069-1000 | Caspase-6 Substrate VEID-AFC; Appearance Liquid | Biovision | 1000 assays | 614.25€ | | Pub |
| 1069-1000 | Caspase 6 Substrate VEID AFC | Biovision | 1000 assays | 613.305€ | | Pub |
| 1069-1000 | Caspase 6 Substrate VEID AFC1000 assays | Biovision | 1000 assays | 514.08€ | | Pub |
| 1070-1000 | Caspase-6 Substrate VEID-pNA; Appearance Liquid | Biovision | 1000 assays | 614.25€ | | Pub |
| 1070-1000 | Caspase 6 Substrate VEID pNA | Biovision | 1000 assays | 613.305€ | | Pub |
| 1070-1000 | Caspase 6 Substrate VEID pNA1000 assays | Biovision | 1000 assays | 541.485€ | | Pub |
| 1071-1000 | Caspase-2 Substrate VDVAD-AFC; Appearance Liquid | Biovision | 1000 assays | 614.25€ | | Pub |
| 1071-1000 | Caspase 2 Substrate VDVAD AFC | Biovision | 1000 assays | 613.305€ | | Pub |
| 1071-1000 | Caspase 2 Substrate VDVAD AFC1000 assays | Biovision | 1000 assays | 541.485€ | | Pub |
| 1072-1000 | Caspase-2 Substrate VDVAD-pNA; Appearance Liquid | Biovision | 1000 assays | 635.04€ | | Pub |
| 1072-1000 | Caspase 2 Substrate VDVAD pNA | Biovision | 1000 assays | 634.095€ | | Pub |
| Cat_Number | Product name | Supplier | Quantity | Price | PDF | Pub |